Some Mass. Beaches Reopened, RI All Clear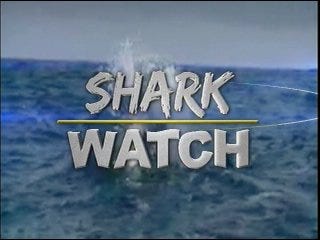 UPDATE:
-From the RI DEM
Despite the recent report of shark sightings off the southeastern Massachusetts coastline and Wednesday's closure of Horseneck Beach in Westport, MA, the Department of Environmental Management is advising beachgoers that there have been NO shark sightings at any Rhode Island state beaches.
As a precaution, however, DEM has heightened awareness of water conditions and has directed its beach staff, particularly lifeguards and beach managers, to be extra vigilant and focused in surveying beach waters for any signs of sharks and to report sightings immediately. Should any sightings occur, swimming restrictions will be instituted immediately as warranted.
UPDATE:
Both Horseneck Beach and Fort Phoenix in Fairhaven have been reopened, but with limited access. The beaches have been shortened the beach to allow lifeguards a better opportunity to watch beach goers. In addition, beachgoers are being advised to go in only waist deep. Lifeguards are also monitoring the waters on jet skis.
UPDATE:
According to New Bedford Mayor Scott Lang's office, all city beaches are back open for swimming after a shark sighting in the area Wednesday.

The New Bedford Police Department Port Security Team and the United States Coast Guard conducted a further investigation of the waters and cleared the area for swimming.
The United States Coast Guard recently completed an aerial sweep of the New Bedford coastline, beginning in the area of the initial shark sighting off the coast of Ft. Taber, informing the City that the water is safe for re-entry.
The New Bedford Port Security Team, the United States Coast Guard and the State Police will continue to patrol area over the weekend for protective measures.
UPDATE:
Horseneck Beach has been reopened in restricted areas after shark sightings earlier this week.
Watch ABC6 News First at Four for Reporter Parker Gavigan's full report on this story…
UPDATE:
There have been no shark sightings specific to Fairhaven, however, Fort Phoenix Beach is closed due to its close proximity to a New Bedford beach that did have a sighting.
***
Add New Bedford to the list of Mass. towns roping off beaches due to shark sightings.
In a statement, Mayor Scott Lang said "All New Bedford public beaches are closed to swimming effective 8pm Wednesday, August 4, 2010 after a reported shark sighting about one mile off the coast of Fort Taber."
The statement went on to say that the beaches will be closed to swimming pending Port Security giving the ok for re-entry.
The Massachusetts State Police will also be doing further surveying of the New Bedford waters, as well as Westport and Dartmouth.
According to the Mass. State Police, "Several outlets are inquiring about possible State Police Air Wing assistance to three South Coast communities concerned about recent shark sightings off their beaches.
"The Air Wing is standing by, ready to fly out of Plymouth, but is currently prohibited from doing so because of a low ceiling. If the weather clears enough for a State Police helicopter to go up, we will do aerial surveillance of shorelines along Westport, Dartmouth and New Bedford."