Somerset Man Uses Facebook to Propose to Girlfriend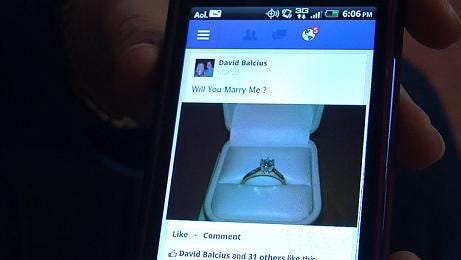 Almost as memorable as your wedding day, is how you got engaged. With social media, those stories are changing. One Massachusetts man used Facebook to propose to his girlfriend, and she said yes!
The 37-year-old Somerset man who popped the question says the hardest part was asking his girlfriends parents for her hand in marriage, coming up with how he would propose he says was easy —
After five years of dating, Jennifer Carreiro and David Balcius knew they'd get married. In fact, Carreiro even knew a ring had been purchased. So, Balcius wanted to be sure the proposal would be something she'd never expect.
"I was trying to figure out how he was going to do it, and so this, I had no idea it was coming," said Carreiro.
Carreiro says they were sitting on the couch watching TV when Balcius asked if she'd been on Facebook lately.
"I said no I haven't, so I went and got my phone and I sat on the couch and I'm pulling up my phone and I go on my wall and there's a ring on my wall and it says will you marry me and I said is this a joke," laughed Carreiro.
But Balcius says he couldn't have been more serious.
"It's all been done before, so I wanted to do something that was just a little different," explained Balcius.
Carreiro tried to give him an answer, but her phone froze, so she ran into the kitchen and jumped on her computer. That's when Balcius grabbed the ring from its hiding spot and got down on one knee
Carreiro said YES on Facebook, and in person to Balcius.
It was a moment they'll never forget, and neither will all their friends who got to witness it on Facebook.
"It's nice to see something that was personal for us made everybody even more excited, and I think some people like the idea, and some people would rather just do it in person the first time, but I got both so I'm pretty lucky," smiled Carreiro.
Both Balcius and Carreiro have been married once before, which is one reason why Balcius wanted to make this proposal memorable. They say the ceremony will be more traditional than the proposal.