Somerset Police looking for hit-and-run driver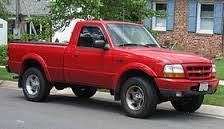 By: Rebecca Turco
Email: rturco@abc6.com
SOMERSET, Mass. – Somerset Police are asking for the public's help in finding the driver who fled the scene after hitting a woman Sunday evening.
The hit-and-run happened on Brayton Avenue, as a woman was crossing the street by Saint John of God Church. She was rushed to the hospital with serious injuries, according to police.
Authorities are looking for a red pickup truck, likely a 1998 to 2001 Ford Ranger or Mazda. Officers found a Ford driver's side mirror at the scene. Witnesses described the truck as a two-door model with a loud exhaust.
"Hopefully they get the individual that [did] it, but people should keep in mind too that while church is on here they should slow down, keep the speed down, cause people are leaving," said Perron.
He hopes people can learn from what happened. "I hope she's okay, and if anything comes out of it, people should just pay attention," he explained. "The cars, they fly up and down this street all day long."
Anyone with thinks they may have seen the truck in question or has any information on the accident is urged to call Somerset Police at 508-679-2138.
© WLNE-TV 2016