Somerset Police: Man exposed himself to children at park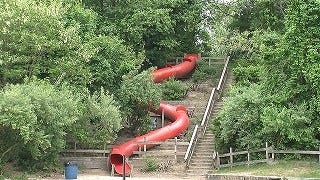 Twitter: @samanthalavien
Somerset police are asking parents to be on alert following a report of indecent exposure at Pierce Beach Park.
"It's pretty shocking, I've been coming here since I was a kid and as far as ever seeing anybody do anything like that it's never happened," said Zachary Komo.
"When you come to the park you want to enjoy your time, you want to have fun with your children, you don't want to be worrying about who is around and what's going to happen," said Jonathan Borges.
According to police, on Thursday afternoon a five year old said she saw a man pull down his pants in front of her when she got to the top of a popular red slide that is surrounded by a wooded area.
After the little girl told an adult about the lewd man, the adult went to check it out and the suspect, who was in the woods, took off.
Then, on Saturday, the child of an off duty Somerset police officer reported seeing a man lurking in the same wooded area with a video camera.
The man fled before the officer was able to grab him.
The officer describes the man as a white male in his 30s with shaggy brown hair, wearing a black t-shirt, cargo shorts and a fisherman's style bucket hat. Police do believe it is the same man who was involved in both incidents.
On Wednesday night, parents at a baseball game on the field right next to the playground say plan to be extra vigilant until this person is caught.
"My little guy will stay with me now until my wife gets here. normally he'd go up and play on the swings and that.. but he won't be going anywhere unless my wife is with him," said Matt Dionne.
If you have information regarding these incidents you're urged to contact the Somerset Police Department at 508-679-2138.
(C) WLNE-TV 2014