South Kingstown's Erik Murphy Drafted 49th by the Bulls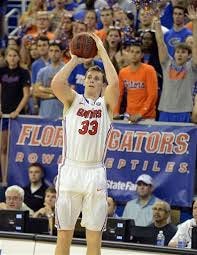 Ken Bell
DEERFIELD, Ill. (AP) — The Chicago Bulls have selected power forward Erik Murphy of Florida with the 49th overall pick of the NBA draft, adding another shooter in the second round.
Even though he's 6-foot-10, Murphy is known as much for his ability to connect from the outside as his inside play.
He averaged 12.2 points and led the SEC in 3-point shooting at 45.3 percent as a senior last season, earning first-team, all-conference honors.
The Bulls took him after grabbing a shooter with the 20th pick in New Mexico's Tony Snell.