South Kingstown's Erik Murphy Introduced in Chicago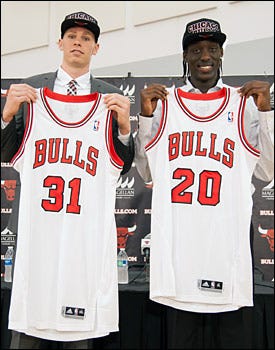 Ken Bell
Chicago Bulls news release…
Bulls view Snell and Murphy as good fits
by Adam Fluck
Like most draft hopefuls, Tony Snell spent last Thursday night
watching the proceedings at home with family and friends, waiting for
his name to be called.
But when he received early notice that he would be heading to Chicago
to play for the Bulls, owners of the 20th overall selection, he kept
the news to himself, a surprising move given the elation that moment
must have delivered.
"I wanted to see it on the screen and hear it for myself," said
Snell. "When they called my name, I was speechless. I let the TV do the
talking because they could have called someone else's name."
Fast forward to Monday and Snell's dream of becoming an NBA player
was finally starting to materialize. That's when he and Erik Murphy, who
Chicago selected with the 49th pick, were introduced at the Berto
Center by General Manager Gar Forman and Head Coach Tom Thibodeau.
"It's a blessing," said Snell. "I thank God everyday for giving me
the opportunity to put on a Bulls jersey. I've been watching the Bulls
ever since I was a little kid. It means a whole lot to me."
Murphy, a 6-10, 230-pound forward, hasn't had specific conversations
with Bulls management or coaches about what he needs to do to land a
spot, but he has a good idea of where to start.
"Obviously, I just have to continue to improve—defensively,
rebounding, getting stronger," said Murphy. "Every aspect of my game I
think I can improve. If I do that, whatever happens, happens, but I
think I'll be alright."
One Bulls player who will be in his corner is fellow Florida Gator
Joakim Noah, who reached out to him on draft night to extend his well
wishes.
"He was real excited, as was I," said Murphy of the phone call. "He gets real fired up, and he was pretty fired up."
Murphy has taken note of Noah's passion and energy, and perhaps he'll apply some of that to his own game.
"I think he might have the highest motor in the NBA, it's arguable,"
said Murphy of Noah. "When he comes back to school, you see the way he
works and the way he plays. It's definitely an inspiration. It gets you
going a little bit and I think that's good. When you play with him and
play against him, it brings it out in you because you have to stay at
that level to compete with him."
Murphy's father, Jay, played in the NBA from 1984 to 1988, when he
enjoyed stints with the Bullets and Clippers. When Erik was around 13
years old, Jay asked him if he wanted to take basketball seriously. Erik
said yes, of course, and the rest is history.
"He's the one that kind of showed me how to work hard and taught me the game," said Murphy of his father.
As both Snell and Murphy embark on the next chapter of their
basketball careers, a learning curve will certainly come into play. But
as Thibodeau knows, it's a process that will have to take place.
"We want them to be complete players; we want them to fit in," said
Thibodeau. "I think there's a big adjustment going from college to pros.
The first part is the work part. They have to learn how to become pros
first, then they have to learn our system, and then they have to learn
the NBA. So there's a learning curve. But we think they're both great
workers and it will be a great fit."