Southern New Englanders fed up with Winter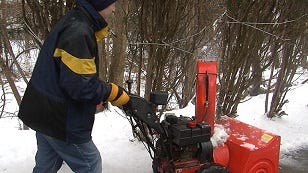 By: Alexandra Cowley
A messy morning commute, several accidents were reported all over the state. From spinouts
to rollovers, though none were deadly. It's a winter that just won't quit and Rhode Islanders are fed up with it.
The sights and sounds of Winter are sticking around in Southern New England. It's not just the people who are done with the mess, Chuck Marcotte's snow blower is on it's last leg.
"It sounds like it's a little choppy there so I'm
hoping its going to make it," said Marcotte.
It's actually been an average Winter for Southern New England with about 20 snow falls, adding up to more than 3 ft of snow.
Marcotte agrees, "This is a tough year for her, it's been resting the last
couple of years, but this year it had to work hard."
Average or not, Dennis Beausoleil has had it.
"I don't know what worse, the price of gas or the
weather," said Beausoleil.
He's accepted he can't do anything about the price of gas, but what he can do something about, is getting Springlike temperatures.
Beausoleil says, "I"I'm going to Florida I'm getting out of here, I'm
not taking no chances."