Sox Bats, Jimenez Streak Will Be Challenged Tonight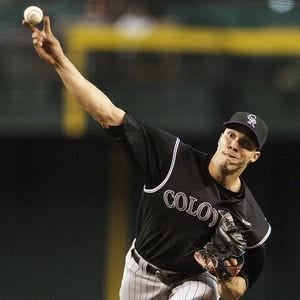 (AP) – In what's starting to look like a season for the ages, Ubaldo Jimenez is about to face what should be his biggest test.
Jimenez's fellow Colorado Rockies pitchers passed that test with flying colors in their series opener against the Boston Red Sox.
Series at a Glance
Jimenez seeks to help the Rockies shut down Boston for the second straight night and become the quickest pitcher to 14 wins in 14 years when the clubs continue their interleague series Wednesday night in Denver.
No opponent has been able to master Jimenez (13-1, 1.15 ERA), who has yielded three runs or fewer in all of his starts, and two or fewer in all but one. The right-hander lowered his ERA by a single point while winning his seventh straight start Thursday, yielding one run over eight innings of a 5-1 victory at Minnesota.
He joined Roger Clemens, who went 13-0 en route to a 14-0 start for Boston in 1986, as the only pitchers since 1932 to win 13 times in their first 14 starts. If he wins again Wednesday, Jimenez will earn his 14th win on the earliest date of a season since John Smoltz won his 14th on June 19, 1996.
"I don't look at stats," Jimenez said. "I probably walk by the TV and see it, but I don't pay attention to it."
Even if he doesn't look at stats, Jimenez is surely aware Boston (43-29) boasts an imposing lineup. The Red Sox have scored a major league-high 391 runs and averaged 5.7 runs while winning 22 of 31.
Those numbers didn't intimidate the Rockies on Tuesday. Rookie Jhoulys Chacin pitched shutout ball into the seventh inning to outduel Boston left-hander Jon Lester, and the Red Sox failed to score until the ninth of a 2-1 defeat which snapped their season-high six-game winning streak.
It was also the first meeting between the Red Sox and Rockies since Boston swept the 2007 World Series, capped by a pair of wins at Coors Field.
Boston will oppose Jimenez with a starter riding a winning streak of his own. John Lackey (8-3, 4.53) is 4-0 with a 3.62 ERA over his last five starts. Despite the record, the former Los Angeles Angel has been far from spectacular in his first season with Boston – he's yet to last longer than seven innings and opponents are batting .293 off him.
The right-hander gave up four runs and eight hits over six innings Thursday, but got credit for an 8-5 win over Arizona.
"It's kind of exciting to be winning games right now because for my career I've always been better in the second half," said Lackey, who improved to 14-5 with a 2.82 ERA in interleague play.
Those numbers include one home win over the Rockies while with the Angels on June 26, 2006, when he yielded three runs in eight innings.
Colorado has won four of five, limiting the opposition to either one run or none in three of those games. With another victory Wednesday, the Rockies will end Boston's streak of nine consecutive winning interleague series.
(Copyright 2010 by The Associated Press. All Rights Reserved.)