St. Andrew's Star Carter-Williams Wins NBA Award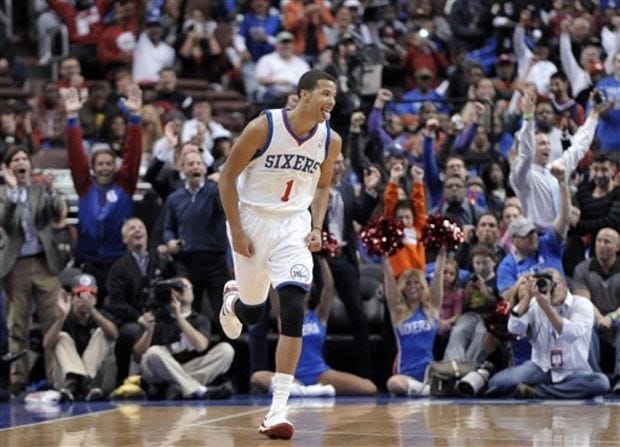 NBA Release
The Philadelphia 76ers' Michael Carter-Williams and the Minnesota
Timberwolves' Kevin Love were today named NBA Eastern and Western
Conference Players of the Week, respectively, for games played Tuesday,
Oct. 29, through Sunday, Nov. 3.
<p>Your browser does not support iframes.</p>
Carter-Williams
is only the second player (Shaquille O'Neal, 1992) to earn the honor to
begin his rookie season. The 11th overall selection in the 2013 NBA
Draft, Carter-Williams helped guide the Sixers to a 3-0 start, which
included wins over the defending champion Miami Heat and the Chicago
Bulls. In his first three NBA games, Carter-Williams averaged 20.7
points and team highs of 9.0 assists and 4.3 steals. In his NBA debut on
Oct. 30, a 114-110 home win over the Heat, Carter-Williams recorded 22
points, 12 assists, nine steals and seven rebounds. The nine steals were
the most by a rookie in his NBA debut, while the 12 assists represented
the second most for a player in his first NBA game (Buffalo's Ernie
DiGregorio dished 14 assists in his NBA debut in 1973).
Love led
Minnesota to a 3-0 mark, the second time in franchise history the
Timberwolves have opened the season with at least three straight wins.
Love paced the team in scoring and rebounding each game, averaging a
league-best 29.7 points and ranking with 4.7 rpg. He had at least 30
points and 15 rebounds twice, giving him 20 such games since entering
the league in 2008-09, second over that span to Dwight Howard (23). In
the team's season opener Oct. 30 — a 120-115 overtime victory against
the Orlando Magic — Love finished with 31 points and 17 rebounds, and
sank the game-tying three-pointer to force overtime.
<p>Your browser does not support iframes.</p>
Here is a recap of the week for Carter-Williams and Love:
Michael Carter-Williams, Philadelphia 76ers
–Oct. 30 vs. Miami: Recorded 22 points, 12 assists, nine steals and seven rebounds in a 114-110 win over the Heat
–Nov. 1 @ Washington: Contributed 14 points, five assists and three boards in a 109-102 victory at Washington.
–Nov. 2 vs. Chicago: Posted a double-double with 26 points and 10 assists in a 107-104 win against the Bulls.