Stabbing at Dartmouth Apartment Complex, Suspect Held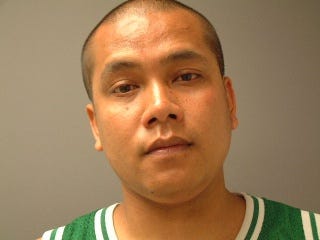 A Fall River man allegedly attacked his girlfriend's sister and another man with a knife in Dartmouth Tuesday night, and will face a judge today. ABC6 has more from Dartmouth Police on the incident…
On Tuesday, July 13, 2010 at approximately 9:06 PM, the Dartmouth police responded to a 911 call at the Dartmouth Woods Drive apartment complex. The calling party reported that her boyfriend had stabbed her sister and fled her apartment.
Responding units were provided with a detailed clothing description of the suspect. Upon officer's arrival, they located a male matching the description of the suspect hiding in the immediate area. The male was identified as 29-year-old Chann Neurn from 492 Division Street Apt. #3 in Fall River. Neurn was arrested without further incident.
Chann Neurn pled not guilty during his arraignment this afternoon in New Bedford District Court.
He is being held without bail and his dangerousness hearing is set for July 20th.
The preliminary investigation revealed that Neurn arrived at the Dartmouth Woods complex and allegedly attacked his girlfriend's sister and her boyfriend with a knife.
A 25-year-old Dartmouth woman sustained serious injuries and was transported to St. Luke's Hospital and subsequently transported to Rhode Island Hospital for additional treatment. A hospital representative stated that the victim was in stable condition as of Wednesday morning. The injured woman's 31-year-old boyfriend, a Dartmouth resident was transported to St. Luke's Hospital with minor injuries and was later released.
The Dartmouth Police are withholding the names of the two victims as this investigation on-going. This investigation is being conducted by Officer Justin Fonseca and the Dartmouth Police Detective Division.
Neurn will be arraigned in Third District Court on Wednesday for the following criminal charges: Assault and Battery with Dangerous Weapon / knife, Attempted Murder, Assault and Battery Domestic, Assault and Battery with Serious Bodily Injury, Assault to Murder & Assault and Battery with dangerous weapon knife.