Staff shortage at nursing homes prompts bill in R.I. Senate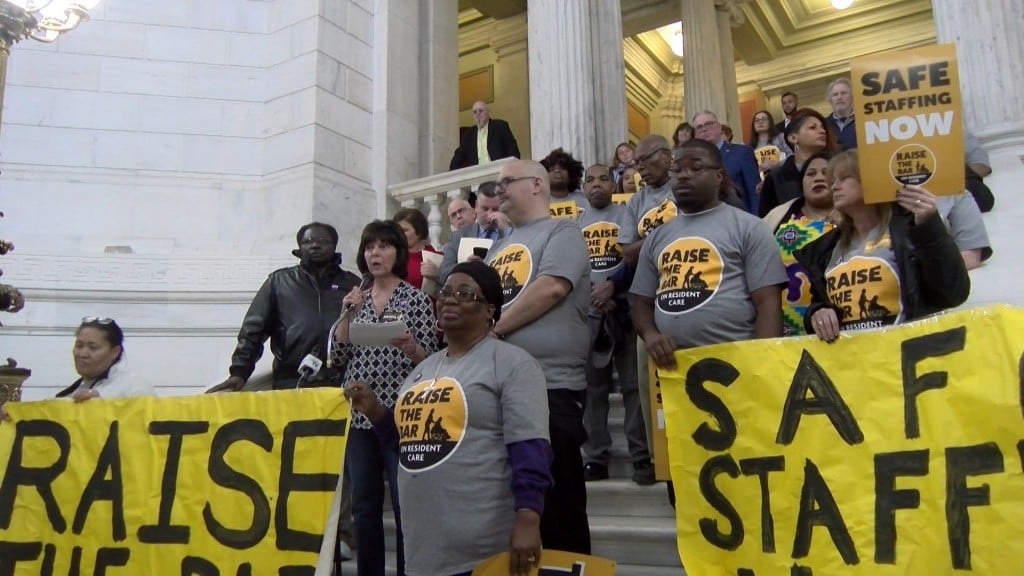 By: Ellie Romano
Email: ERomano@ABC6.com
Twitter: @ERomanoABC6
PROVIDENCE, R.I. (WLNE) – A large crowd of nurses gathered in the State House rotunda on Wednesday to protest what they're calling a staffing crisis in Rhode Island.
Certified Nursing Assistants (CNA) at the rally tell ABC6 many nursing homes are severely understaffed, jeopardizing patient care.
"You have five CNAs with 52 patients," said CNA Victoria Mitchell. "They give you 9-10 patients a day."
Mitchell says she and her co-workers are overwhelmed by the workload, and as a result, cannot adequately treat their patients.
"[Patients] sit in feces for a little bit. It's sad to say," said Mitchell. "It's not our fault. We try our best. But that's the system we see ourselves in now."
Those with family in nursing homes have seen the problems and have had enough.
"I've had many family members in and out of nursing homes," said Antoinette Lamontagne of Cranston. "You think your family is going to be well cared for and in many instances, it's not that at all."
Senate Majority Whip Maryellen Goodwin (D-Providence) has introduced a new bill to address the issue. The legislation would require a patient to receive a minimum of 4.1 hours of care per day, which is the federal recommendation for quality care.
"We are the only state in all of New England that does not have this minimum requirement," said Sen. Goodwin.
The bill would also increase pay for caregivers. The median wage for a CNA in Rhode Island is less than $15 an hour, leading to constant turnover and short staffing.
"You have Target and Wal-Mart paying a similar amount as the people taking care of human beings," said Mitchell.
The legislation would also invest in training and skills enhancement for caregivers. The bill has received early support from Senate President Dominick Ruggerio.
"I'm going to make this my top legislative priority. I'm going to give it my all," said Goodwin.
The bill is being met with concern from the group LeadingAge RI, which represents non-profit nursing homes in the state.
"Many other states may have staffing ratios or similar requirements in statute, but they are lower than the 4.1 hours per day. This is perhaps reflective of the need to avoid imposing an unfunded mandate on nursing homes," a spokesperson for the group said via a press release.
LeadingAge RI's executive director said he doesn't know where the bill's funding will come from and that Medicaid won't be able to cover the costs.
"A mandate of 4.1 hours per resident day would be difficult for most providers to meet unless our reimbursement system changes. We have supported efforts to ensure that our Medicaid system includes incentives to promote staffing, but until that exists, we cannot simply impose a requirement on providers without the means to achieve it," said the spokesperson.
©WLNE-TV/ABC 6 2020