UPDATE: Blackstone Standoff Suspect Blames Drug Use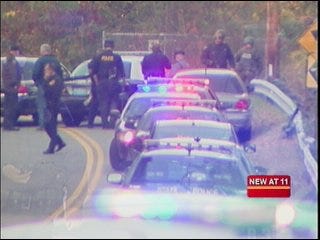 A Rhode Island man is accused of leading police on a chase, then holing up in his SUV for hours in Blackstone, Mass., before being captured.
Fifty-three-year-old Anthony Daignault of Woonsocket, R.I., was arrested Tuesday evening after authorities used a "flash-bang" device to capture him.
During an appearance in Providence District Court on Wednesday, he blamed drug use for his actions.
Woonsocket police say they tried to arrest Daignault for a domestic dispute Tuesday morning in Woonsocket, and say he almost hit two police cruisers as he fled and drove to Blackstone. They
say he stayed in his SUV for more than four hours.
Daignault is faces charges including domestic assault and battery and reckless driving and is being held on $2,000 surety.
TUESDAY NIGHT STORY
A police standoff with a suspect who was thought to be armed has ended in Blackstone, Mass.
Blackstone Police tell ABC6 that 53 year-old Anthony Daignault of Woonsocket was found in Blackstone at about 2pm today, wanted by Woonsocket Police for a domestic incident earlier in the day. He also almost hit a Woonsocket police car around 7am in their city.
The Massachusetts State Police deployed a STOP team to assist the local police with the standoff, and resolved it peacefully around 630pm. Daignault was taken to an area hospital for evaluation.
Police would not say whether or not he had a gun, but family members said they didn't think so.
ABC6 Reporter Erin Logan has the story.