State Fire Marshall joins Plympton Fire Department to honor five-year-old with Young Hero Award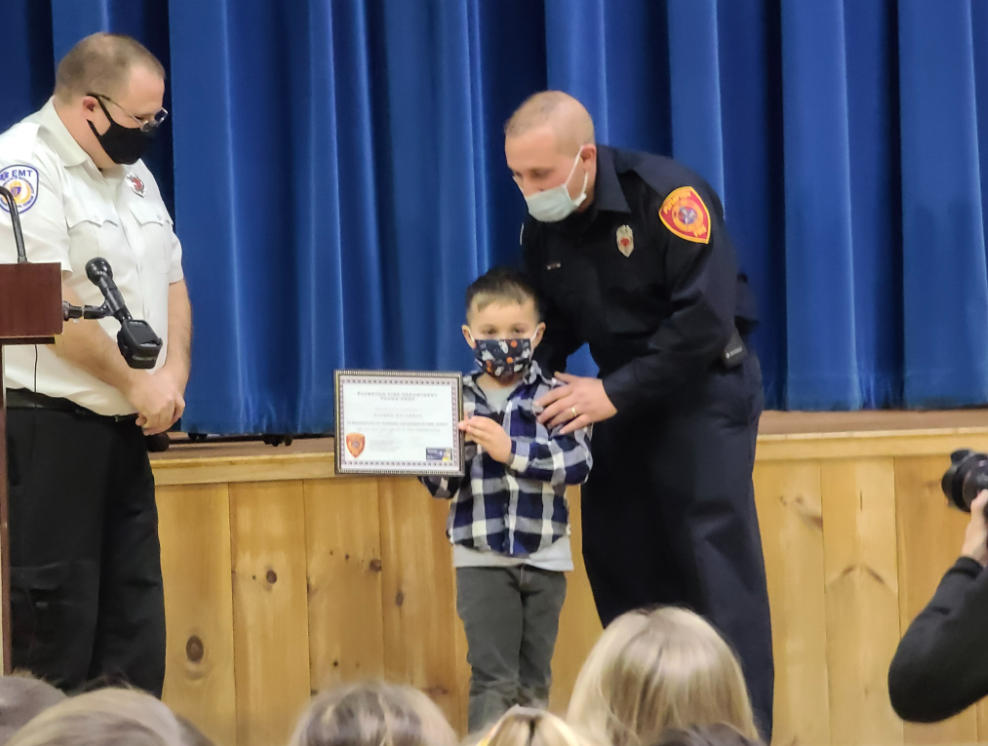 PLYMPTON Mass. (WLNE) – State Fire Marshall Peter Ostroskey and State Representative Kathy LaNatra joined the Plympton Fire Department to honor a five-year-old boy for evacuating his home during a carbon monoxide incident.
Plympton firefighters visited five-year-old Cayden Galambos's classroom at Dennett Elementary School for fire prevention week. This year's theme was Learn the Sounds of Fire Safety. Firefighters taught students that when carbon monoxide alarms from the smoke detector sound, that they should exit their homes quickly and safely and call 911.
A week later, Cayden recognized the carbon monoxide alarms inside his home during October's Nor'easter. Wind had caused generator exhaust fumes to make their way into the family home. Immediately Cayden rushed to get his family out of the house, not letting his mother put her shoes on to rush her out the door – exactly like firefighters had taught him. They walked through mud to their meet-up point and called 911.
The fire department including Cayden's father responded to the call. The house was ventilated before the family was let back inside, and nobody was harmed.
During a ceremony at Dennett Elementary School, Cayden was presented with Massachusetts Department of Fire Services Young Hero Award, a citation from the Massachusetts House of Representatives and a certificate from the Plympton Fire Department.
"To see how Cayden reacted to this incident, he and his classmates obviously learned a great lesson through the Plympton Fire Department and the S.A.F.E. program," Fire Marshal Ostroskey said. "We need to reinforce these lessons by recognizing young heroes and demonstrating the importance of fire safety education for kids everywhere."
"If he wasn't awake, it could have gone differently," said Plympton Firefighter Steve Galambos, Cayden's father. "He's a smart kid. He did a good job."