State lawmaker apologizes for vulgar outburst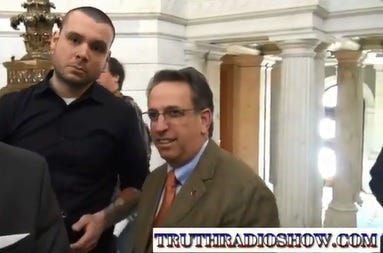 By: Dee DeQuattro
Email: ddequattro@abc6.com
Twitter: @deedequattro
A state lawmaker is apologizing after a video of him using profanities directed at an Internet radio commentator went viral.
Senator Joshua Miller told Daniel Bidondi to go "F*** himself," on camera when Bidondi, a second amendment activist said to him, "the second amendment shall not be infringed, you people need to understand that."
Miller explained that he was frustrated with Bidondi's behavior at the event but noted he should not have used the offensive language. Bidondi is involved in a website called truthradio.com.
The incident took place at a Second Amendment rally last week at the Rhode Island State House. Supporters and opponents of stricter gun control all rallied prior to a hearing on a bill that would impose a 10% tax bullets and ammunition.
Miller issued the following apology on Tuesday: "Last Tuesday a vast group of Rhode Islanders gathered peacefully in the State House rotunda to voice their concerns about gun violence in our state and in our country. They also gathered to support sensible gun legislation that would ban the sale of assault weapons, ban the sale of high capacity magazines, ban weapons on school grounds and deny firearm access to individuals who have been convicted of domestic violence misdemeanors.
At the end of a press conference in which I participated, an individual representing a website notorious for conspiracy theories started berating members of the coalition and intimidating elderly veterans, members of the clergy and victims of violence.
It quickly became a highly charged atmosphere, which required the presence of the Capitol Police. The individual in question is not new to the State House and is known for his aggressive and intimidating manner. He also was interrupting legitimate members of the media who were attempting to conduct interviews.
After watching him antagonize an elderly veteran he swung his camera my way, which produced a very human and guttural reaction. I respect both the Second Amendment and the First Amendment. It is important to note that the individual in question was physically removed from a committee room by the Capitol Police later that evening.
Regardless of the emotions and atmosphere of the moment, it does not justify the language I used that day. Out of respect for the decorum of the State House and the constituents I represent, I offer my apologies."
(C) WLNE-TV 2014