State officials warn of blue-green algae blooms in ponds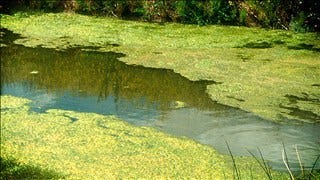 By: The Associated Press
Email: news@abc6.com
Twitter: @ABC6
PROVIDENCE, R.I. (AP) – Rhode Island officials are advising people to stay away from multiple bodies of water after toxic blue-green algae blooms were discovered.
The state Departments of Health and Environmental Management said Friday that toxins in St. Mary's Pond in Portsmouth and Elm Lake, Roosevelt Lake and the Japanese Gardens in Roger Williams Park in Providence could harm humans and animals. People are urged to avoid contact and keep pets away. Ingesting the water or eating fish from the ponds can cause diarrhea, vomiting and damage to the liver or nervous system.
Officials say children and animals are at greater risk. If a pet touches toxic water, it should be rinsed with clean water before it tries to lick itself clean. People should rinse skin and clean their clothes in case of contact.
Copyright 2017 The Associated Press. All rights reserved. This material may not be published, broadcast, rewritten or redistributed.