State Police: 85 lbs of weed seized in traffic stop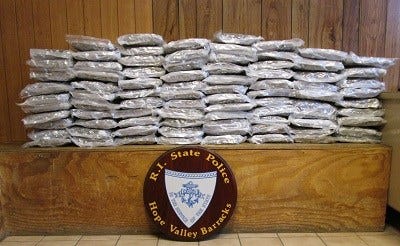 By News Staff
news@abc6.com
RI State Police have arrested a man who was in possession of 85 pounds of weed.
21-year-old Bing Zhou Liu, of Brooklyn, was riding in a taxi on Route 95 in Richmond on Thursday when he was stopped by Troopers for speeding and other violations.
State Police say the taxi driver told them he was paid $400 to drive Liu from New York to Massachusetts. Troopers found 5 FedEx boxes containing 85 individually-wrapped and vacuum-sealed bags of marijuana, estimated at $300,000.
Liu was charged with manufacturing/possession with intent to deliver marijuana greater than 5 kilograms, and possession of marijuana with intent to deliver.
He is being held at the ACI pending a bail hearing April 8.
© WLNE-TV 2015