State Police continue investigating shots fired at trooper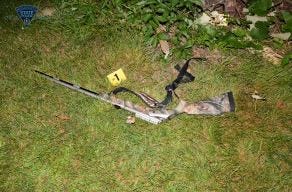 By News Staff
Massachusetts State Police are still looking for information on the man accused of firing shots at a trooper.
Around 2:00 last Thursday morning, a trooper was on patrol on Route 140 near the Mansfield/Foxboro line when he heard a loud noise from behind his cruiser.
The trooper, uninjured, turned around and saw a man in light-colored clothing stand up and run into the woods. Investigators immediately began searching the area, to no avail. A black powder hunting rifle was found nearby.
State Police are now releasing images of the rifle and other items believed to have been left behind by the suspect, including a Redhead brand backpack and hunting cap.
If you have any information on the suspect or the incident, please contact State Police at 508-961-1928.
© WLNE-TV 2015