State Police arrest man for stabbing, shooting at Colt State Park cookout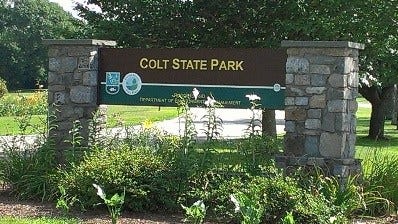 By Dana Griffin
@danaRgriffin
BRISTOL, RI- State Police say the altercation at a cookout at Colt State Park Sunday, was between several Blood gang members.
24-year-old Lang Bounama Lek of Manchester, NH was arrested for the shooting and possession of a stolen firearm.
Jordan Lyttle, 23 of Fall River was shot around 4:45 Sunday. Police say he will not face any charges at this time.
Both men are still being treated at Rhode Island Hospital.

Inside the popular Bristol park, where hot dogs and hamburgers are usually the only things heated, violence broke out this Memorial Day weekend, sending two men to the hospital. One was stabbed, the other shot, during a cookout.
Anthony Noronha was at the park celebrating today. He said, "Just goes to show that even in a peaceful place like Colt State Park that violence can occur anywhere."
On Monday, families and friends set up their picnic tables to enjoy the holiday inside the park; some uneasy about what took place here less than 24–hours ago.
"Insane. I mean, I feel so bad. We're having a great picnic today with our church. I can't imagine anyone going so crazy they'd have to do that," said, Andy Argenbright.
Georgianna Cabral said, "I've been up here since '89 and it's the first time that I've ever heard of a shooting or a stabbing in Colt Park, it's a beautiful park."
Today, state police interviewed both men to find out exactly what happened. They say an argument started the fight, and both men know each other.
©2014 ABC6/WLNE-TV. All Rights Reserved.