Adam Walsh Act could save Rhode Island thousands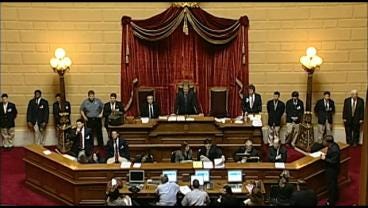 Under current law, child molesters who were convicted before 1996 slip under the radar.
When they leave prison, their neighbors often aren't told that a sex offender is in their community.
A more stringent sexual offender law has been floating around the state house for years.
It's called the Adam Walsh Act. While it has been passed in the House several times, it has never made it to the Senate floor for a vote.
Well, those supporters in the House say it is now more than a safety issue.
If this law is not passed, the state of Rhode Island stands to lose federal grant money.
"If we don't do this, how much money will we lose? Approximately 150 to 600 thousand dollars per year," says state representative Peter Plumbo.
Plumbo says three things need to be done to secure that grant.
"We have to create an offence based system and eliminate the sexual offender board."
The sexual offender notification board is made up of volunteers, who consider each offender separately before assigning them to a dangerousness tier ranging from 1 to 3, 3 being the worst.
The Adam Walsh Act would make tier assignments mandatory based on the crime committed.
"Two, the retroactivity needs to be addressed. Three, the consolidation under the state police, the auspices of the state police."
Palumbo says this would make it easier to track sex offenders including those from out of state.
It would also take the financial burden off of the cities.
"How much does it cost the cities? It costs the city of Cranston 5 thousand dollars per offender to notify the community," he says.
It cost the city of Providence last year 50 thousand dollars just to notify the schools.
Palumbo is including the Adam Walsh Act as an amendment to the budget to try and get this legislation passed.
Because he says the Adam Walsh Act has passed the house as a separate bill three of the past four years, then died in the senate judiciary committee.
"I don't understand why, I think it could be for selfish reasons. What could be those selfish reasons? Well, by selfish reasons, I am thinking because it is an offense based system, I believe there are certain defense attorneys out there that maybe they see that they are going to lose some money by not having the ability to negotiate the tiers," he says.