State troopers arrest two for drug trafficking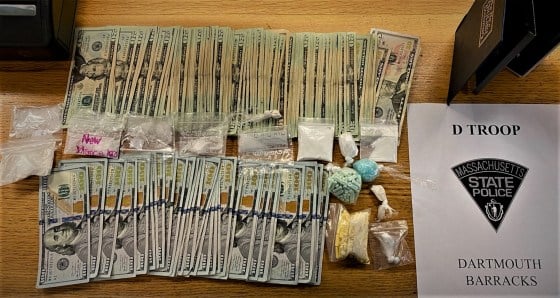 NEW BEDFORD, Mass. (WLNE) – Two people were arrested in New Bedford for drug trafficking on Tuesday just before 4 a.m.
Massachusetts State Police said a trooper driving on Sawyer Street pulled over a gray Range Rover after running it's license plate, which revealed the car's registration was revoked due to insurance cancellation.
The driver was identified as 33-year-old Brittany Dias of South Boston. State police said 41-year-old Richard Conlon of Fall River was in the passenger seat.
State police said after questioning, troopers developed probable cause to search Dias, and found $5,000 in cash, in addition to a "gold ball sized bag" of fentanyl.
When troopers searched the car they found a dictionary with a void inside, which held a large amount of Xanax pills and bags of suspected drugs.
In addition to the pills, State police said they seized 26 grams of fentanyl and 20 grams of crystal meth.
Dias and Conlon were arrested and scheduled for arraignment at New Bedford District Court.
Dias faces the following charges:
Trafficking fentanyl
Trafficking methamphetamine
Possession of a Class B substance with intent to distribute
Possession of a Class A substance with intent to distribute
Possession of a Class E substance with intent to distribute
Possession of a Class B substance
Operating a motor vehicle with a revoked registration
Operating an uninsured motor vehicle
Conlon is facing the following charges:
Trafficking fentanyl
Failure to wear a seatbelt