Stench Not The Only Problem at Johnston Landfill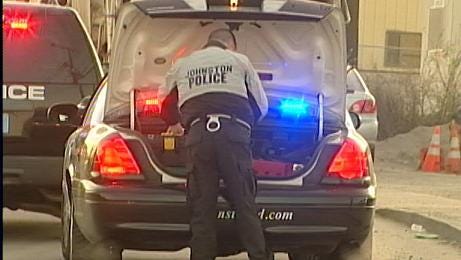 Johnston and state police were out ticketing speeders on the road that leads to the landfill today. The timing of the crackdown is raising some questions about whether Mayor Polisena is playing hardball over the landfill's in-ability to clear the air of the rotten egg smell.
But the Mayor says the speeding on Shun Pike has him worried for people's safety. Which is why police were giving out tickets and doing inspections this morning. He says it has nothing to do with his battle over the landfill smell.
While working to fix the smell, Mayor Polisena realized a dangerous speeding problem.
"I pull over and they whiz right by you. We're not singling them out, but if they want to ride on the roads they have to be safe, but most importantly they have to slow down," said Polisena.
Together, state and local police pulled over twelve trucks, resulting in 67 violations. Violations ranged from bald tires to cracked tail lights. Some trucks were even towed from the landfill. Lieutenant Joseph Razza says this type of enforcement is routine.
"It's nothing out of the ordinary. The Rhode Island state police were just with us today and helped us out it was a collaborative effort."
Kristin Normandin works at M&M Disposal across the street from the landfill. She says she's never seen so many lights on Shun Pike.
"The whole road was all flashing lights this morning," said Normandin.
Executive Director of Rhode Island Resource Recovery, Mike OConnell, says he doesn't think they're being targeted.
"We know they're here we always know they're here, you know we work very closely with the Town of Johnston, so we don't think that has anything to do with it, but you might want to ask the chief over there," said OConnell.
Whatever the reason for the extra enforcement on Shun Pike, OConnell showed us how they're trying to fix the smell. They've relocated one of their flares to a problem area of the landfill. They are also installing 42 additional wells to help suck up some of the gas causing the smell.
OConnell expects the extra wells to be put in and working by Friday, which he says will help to alleviate the smell in the next couple of weeks. Either way, Mayor Polisena says Johnston has waited long enough for the bad smell to be fixed. Johnston is filing a lawsuit over the smell Wednesday.