Stephen Gostkowski's late FG lifts Tom Brady, Patriots over Bills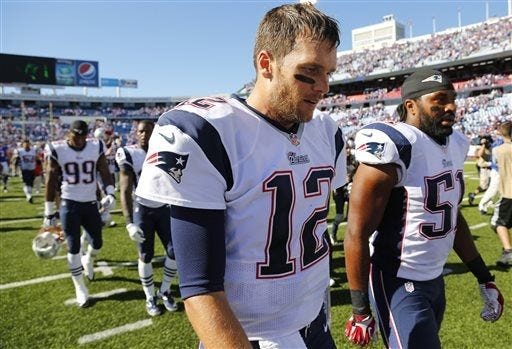 ORCHARD PARK, N.Y. — Tom Brady overcame a sloppy start with his new group of receivers to produce what's become a familiar finish.
Brady marched the Patriots 49 yards in 12 plays to set up Stephen Gostkowski's 35-yard field goal with 5 seconds left for a 23-21 season-opening win over the Buffalo Bills
on Sunday. Brady twice completed passes to convert third downs on the
decisive drive.
That included threading a throw to his right to Danny Amendola in traffic for a 10-yard gain on third-and-8 at the Bills 39.Shane Vereen ran 15 yards on the next play, and the Patriots settled on running time off the clock before Gostkowski won it.Brady
finished 29 of 52 for 288 yards and two touchdowns in helping the
Patriots win their 10th straight season opener.
That ties
Portsmouth/Detroit (1930-39) for the NFL's third-longest streak.It
marked the 36th time Brady led the Patriots to victory while tied or
trailing in the fourth quarter. And he did it with nearly a brand new
group of receivers.Amendola, an offseason free-agent addition, had 10 catches for 104 yards. Julian Edelman, the Patriots' most senior receiver with tight end Rob Gronkowski sidelined, had seven catches for 79 yards and two touchdowns.The new-look Bills nearly pulled off a stunning upset in their first game under coach Doug Marrone and rookie quarterback EJ Manuel.It
instead turned into an all-too-familiar outcome for the Bills against
their AFC East rivals. They dropped to 1-19 in their past 20 meetings.
They are 3-24 in 27 games since Bill Belichick took over as Patriots
coach in 2000.Belichick won his 206th career game to move one ahead of Marty Schottenheimer for sixth place on the NFL list.Manuel,
the first-round draft pick, completed 18 of 27 passes for 150 yards and
two touchdowns. After trailing the entire first half, Manuel put the
Bills ahead 21-17 on the first possession of the third quarter. Behind a
solid running game, Manuel capped an 11-play, 80-yard march with a
perfectly placed 18-yard pass to Stevie Johnson.
The Bills had
difficulty mustering any further offense, managing just three first
downs and 73 yards on their final five possessions.Turnovers led to all four touchdowns in the first half.Patriots cornerback Kyle Arrington forced two fumbles, one by running back C.J. Spiller, the other by receiver Marquise Goodwin. Both came inside Buffalo territory and set up Edelman's 9- and 8-yard touchdown catches.Safety Da'Norris Searcy scored Buffalo's first touchdown by returning Stevan Ridley's fumble 74 yards. Justin Rogers intercepted Brady's pass that tipped off the fingers of Zach Sudfeld in the final minute of the half.
Manuel hit fellow rookie Robert Woods for an 18-yard touchdown with 34 seconds left.Ridley
did not return after his fumble. It was an unforced error, as Ridley
slipped at the line of scrimmage and lost the ball without being
touched. Ridley had also fumbled in the first quarter, but officials
ruled he was down before losing control of the ball.Ridley spent the rest of the game watching from the sideline with his helmet perched on his head.Vereen took over most of the running duties and finished with 14 carries for 101 yards.
Brady had difficulty finding chemistry minus his familiar security blankets. Wes Welker, Brandon Lloyd and Aaron Hernandez are gone, while Gronkowski is still recovering from back and forearm injuries.Rookie Kenbrell Thompkins struggled in particular. He had only four catches for 42 yards despite being targeted 14 times.The
Patriots' offense lacked finish in the second half, coming away with
two field goals on three drives inside the Bills 20. Brady fumbled a
snap on fourth-and-goal at the 1 on New England's first possession of
the third quarter.
And the Bills lacked discipline: They were penalized 10 times for 75 yards.