Steven Wright Matches Career High as PawSox Beat the Knights at McCoy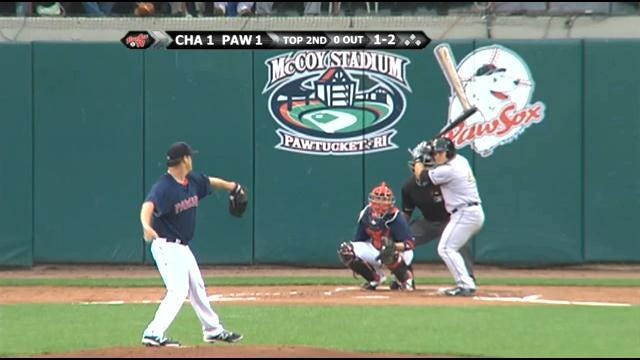 PawSox news release…
(Pawtucket, RI) – Pawtucket starter Steven Wright threw seven dominating innings and matched his career high with ten strikeouts to lead the PawSox past the Charlotte Knights, 6-1, Thursday night in front of 4,515 fans at McCoy Stadium in the opener of a four-game series.
Wright (1-1) combined with relievers Alex Wilson and Chris Resop on a four-hitter as Pawtucket won for the fifth time in its last six games. The PawSox (34-34) got back to the .500 mark for the season for the first time since May 31st.
Following a first-inning home run hit by Charlotte's Marcus Semien, Wright retired the next ten batters he faced until a leadoff walk issued in the fifth. In seven innings the knuckleballer allowed only three hits and one walk. He recorded the seventh straight quality start for a regular Pawtucket starter (not including MLB rehab appearances).
The PawSox knocked out Knights starter Erik Johnson (1-4) after only four innings. Carlos Rivero's RBI single in the first tied the score at 1, then Dan Butler's bloop RBI hit in the second gave Pawtucket its first lead of the night.
Mike McCoy lined a two-out, two-run single against Johnson in the fourth to increase the lead to 4-1. Johnson threw 96 pitches in four innings and allowed four runs on six hits and five walks.
Christian Vazquez drilled a solo home run (2) in the eighth against reliever Donnie Veal, part of a two-run inning that also included an RBI single from Mookie Betts. Betts, Travis Shaw and Vazquez each collected two of Pawtucket's ten hits. Semien had three of Charlotte's four base knocks.
Game two of the series is slated for a 7:05 pm first pitch on Friday night. Righty Clay Buccholz (NR) will get the ball for manager Kevin Boles as part of his MLB rehab assignment, while righty Dylan Axelrod (2-6, 5.02) is expected to start for the Knights.