Stripers Walk Off On Pawsox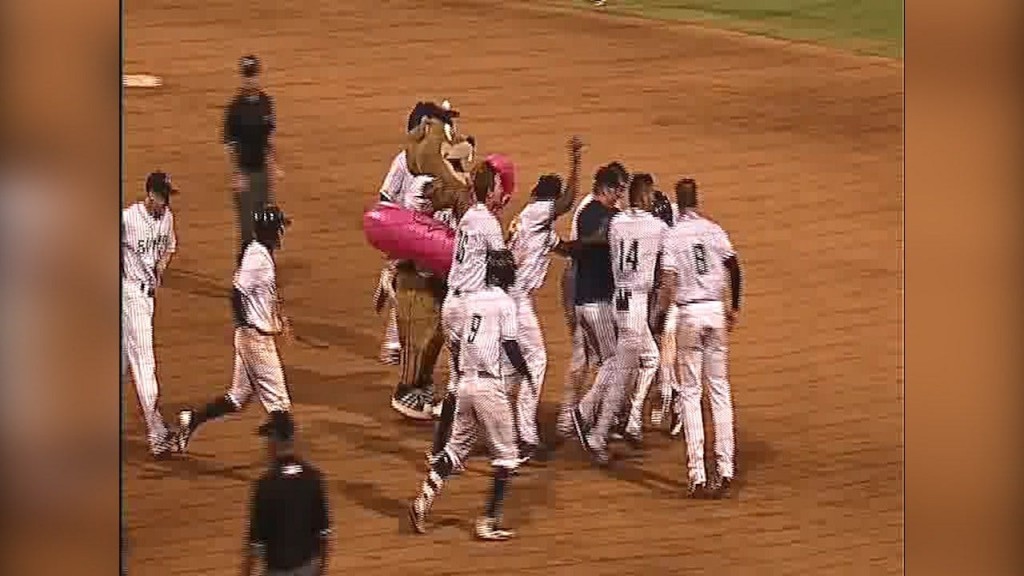 The Gwinnett Stripers exploded for a four-run fifth inning and then walked off with an RBI single in the ninth inning to defeat the Pawtucket Red Sox, 5-4, on Saturday night at Coolray Field.
The PawSox (45-52) constructed a 3-0 lead in the fourth inning, but the Stripers (46-53) vaulted ahead 4-3 in the fifth. Pawtucket tied the game in the sixth, only for Gwinnett to load the bases with nobody out in the ninth and walk off on a highly-chopped single from Jonathan Morales that bounded over Pawtucket's drawn-in infield. After starting this seven-game road trip with a thrilling, come-from-behind win Monday night at Charlotte, the PawSox have now lost five games in a row, including three in walk-off fashion (Tuesday, Thursday, Saturday). Gwinnett also won Friday's series opener (7-4) by scoring six runs in the bottom of the eighth inning.
Pawtucket center fielder and International League All-Star Rusney Castillo (3-for-4, RBI) added three more base knocks to his league-leading hit total (108). Third baseman Iván De Jesús Jr. (2-for-3, R, HBP) has recorded eight hits in his last five games.
Pawtucket starter Chandler Shepherd began his night with four no-hit innings before running into trouble in the four-run fifth inning. In total, the 25-year old right-hander from Kentucky ceded four hits and four runs in five frames with a strikeout. Veteran righty Josh A. Smith (L, 2-3) worked three-plus innings, generated a pair of helpful double-play balls and only allowed the run in the bottom of the ninth.
Gwinnett starter Lucas Sims gave up three runs in four innings, and piggyback starter Wes Parsons (W, 6-2) chipped in with five innings of one-run work, four strikeouts and no walks.
In the top of the third inning, the PawSox placed runners at second and third. Catcher Óscar Hernández sprinted in from third base on a wild pitch to hand Pawtucket the first run. Moments later, Castillo ripped an RBI single to plate leadoff man Aneury Tavarez, who had reached on a ground ball that was out of the reach of the far-ranging second baseman but was scored an error.
An inning later, Pawtucket extended its lead to 3-0 when shortstop Mike Miller sliced an RBI single to right-center field.
Gwinnett started its fifth-inning uprising with a sacrifice fly to left field. Following a fielder's choice that dwindled Pawtucket's lead to 3-2, Gwinnett right fielder Rio Ruiz blasted a 413-foot, two-run homer to straightaway center field to push the Stripers ahead 4-3.
The PawSox tied the game, 4-4, in the top of the sixth inning when left fielder and Georgia native Kyle Wren stroked a sacrifice fly to deep left field.
In the bottom of the ninth inning, Gwinnett worked a leadoff walk and placed runners at second and third after a double. With nobody out, Pawtucket elected to load the bases with an intentional walk. That's when Morales bounced a ball down over De Jesús at third to seal Gwinnett's victory.
The PawSox conclude their weekend series against Gwinnett on Sunday at 1:05 p.m. PawSox right-hander Justin Haley (5-7, 3.50) is scheduled to oppose Stripers lefty Kolby Allard (6-4, 2.85). Radio coverage on WHJJ (920 AM and 104.7 FM) and throughout the PawSox Radio Network begins with the pre-game show at 12:35 p.m.
After the seven-game road trip, the PawSox will return home July 24-29 (Tuesday-Sunday) to square off with the Columbus Clippers (Cleveland Indians) and Knights. Good tickets are available, and fans can visit the McCoy Stadium box office, which is open Monday-Friday from 10 a.m. through 5 p.m., and during all home games. Fans can also call (401) 724-7300 or log on to PawSox.com for tickets.