Strong winds delay power restoration across R.I.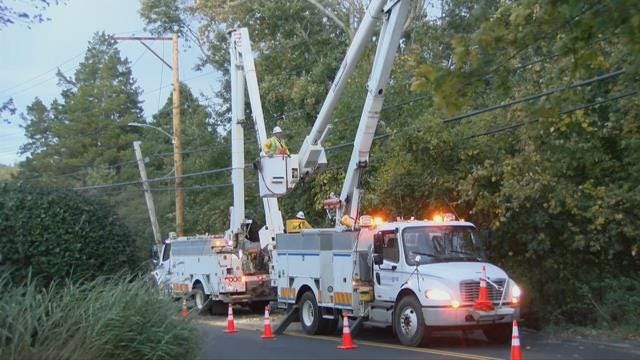 RHODE ISLAND (WLNE) – National Grid crews are working around the clock to restore power to all Rhode Islanders. But the gusty winds are slowing down restoration efforts.
According to a spokesperson from National Grid, crew members can only go up in their truck buckets if winds are under 35 mph. Gusts have sporadically exceded that throughout the day.
"We want to get our customers' power back as soon as possible, but we also know they want us to do it safely and not put our crews at risk," said Ted Kresse with National Grid.
Residents in Cranston felt the effects of the continued winds after a gust of wind knocked a tree into power lines, cutting the power at City View Estates Thursday afternoon.
"There was a loud bang and then we lost power," said resident Steven Ricci.
Another problem for National Grid: once customers have had their power restored, the wind knocks it out again.
"Despite the whipping winds and challenging conditions, we've still been able to restore power to more than 40,000 customers throughout the day as we continued to see new outages develop," said Kresse.
If you're still without power and wondering when it's going to come back on, you can track National Grid's progress using the outage map.
©WLNE-TV/ABC6