Students "Chronically Absent" in Fall River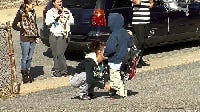 Nicole Gerber
ngerber@abc6.com
@nicolegerber
FALL RIVER – New numbers show that a startling number of students in Fall River are "chronically absent" meaning they miss at least 18 days of school during the academic year.
"If a child is not in the classroom he or she is not
going to be able to learn," said Mayor William Flanagan. "If [they're] not going to be able to learn they aren't going
to do well on their tests and it's going to go into a downward spiral."
So the Mayor has created a task force that works with schools
and homes alike to find and address the issues that keep kids out of the
classroom.
Some parents who spoke to ABC6 News feel that the city is right to
intervene, but that the responsibility… ultimately… Falls elsewhere.
"It's the parents who need to make sure that the kids
are attending school properly… It's not the kids what are gonna get up by
themselves," said Nile Hinckley, who was picking up his child at the Watson School.
Nayelis Celice, who has two kids at the Watson school, said "Parents let their kids go to bed way too late
so they don't wake up on time and the parents are like 'oh just stay in
bed"'. I know a lot of parents like that."
Mayor Flanagan says he's ready to step in, in situations
where something in the child's home is what's keeping them out of school. "You have to get sometimes social service agencies
involved. And in the last resort in some cases you have to get the judicial
system involved."
He hopes he can curb the 30 percent of kindergartners and 22
percent first graders who miss more than 3 schools weeks per year, before the
situation gets worse. "Ultimately the question is for the high school
to the parents is: it's 8 am and do you know where your child is?" he said.
The mayor's task force will include some community members as well as local education leaders. Those members are expected to be announced at some point tonight.