Students protest for teacher's return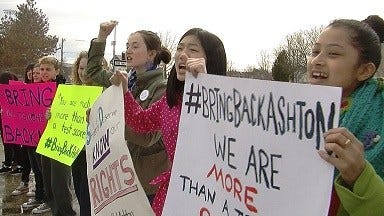 By Dana Griffin
@DanaGriffinABC6
PAWTUCKET, RI- Until English teacher, Bill Ashton is back at Walsh High School, students say they will protest outside the school before and after school.
Student, Maggie Roberts said, "We heard over the loud speaker: 'Mr. Ashton please come down to the office,' and within 20 minutes it was going around the school that he had been suspended."
On Friday, March 13th Ashton was suspended with pay after he allegedly told students they could opt–out of the PARCC exam while trying to clear up a rumor that if 95–percent didn't participate, the school would be closed or lose funding.
"It made me feel very upset that just because he cleared up a rumor he was getting suspended for that. He has just always taught us to stand up for what we believe in," said student, Hope Norton.
Norton created the 'Bring Back Ashton' Facebook page. It has over 2,300 likes and an online petition with over 600 signatures.
"We're getting messages from people all over the country and it's good to know we have people watching and supporting us," said Norton.
In Rhode Island, schools have to administer the test but participation level does not affect funding. If students 'opt-out' they're just marked as a non–participant.
School Superintendent, Patti DiCenso has not confirmed the suspension but did send a statement:
"What teachers say on their own time is their business so long as it does not disrupt the school environment. During the work day, however, I expect all teaching staff to teach pursuant to our curriculum and contribute to a respectful, safe environment for our children and our staff," said DiCenso.
Parent, Kathy Norton said, "It upsets me that he's being punished for speaking the truth. What kind of a message are we sending to the kids- its ok to lie when you're at work but don't lie when you're outside of work?"
©2015 ABC6/WLNE-TV. All Rights Reserved.