Students rally in Providence for bus passes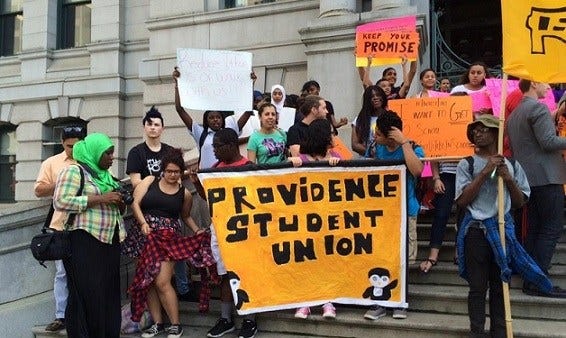 By Rebecca Turco
Teenagers demanding change as chants ring out inside Providence City Hall, all in effort to get bus passes for more students.
With the school year winding down, those students used this opportunity to remind Mayor Elorza about his campaign promise of getting more bus passes for these students.
Students marched into City Hall and strait to the second floor near the Mayor's Office. The chants were so loud you could hear them from inside the office area.
"There needs to be justice here. We need more bus passes for our students," exclaimed Lexus Fernandez, who walks to school every day.
The students are reminding Elorza of his campaign promise. Those living at least two miles from school qualify for a bus pass.
"A lot of kids in our school, they don't have other means of transportation. They have to be forced to ride a bike and they can't ride a bike in the snow," said Joy Njoku, who also walks to school.
"This is a struggle to my everyday life," continued Lexus Fernandez.
Right now students have to live at least two and a half miles from school to officially qualify for a bus pass.
"1,000 students are waiting and we want this to happen now," Roselin Trinidad, of the Providence Student Union.
So they marched 60 laps near the Mayor's Office to represent a five-mile round-trip walk to school.
"Someone can be wearing something normal to school but if they have to walk, they get sweaty in the process, no one wants to go to school like that," said Lexus.
These students were hoping to get the mayor's attention, but as it turns out, he wasn't in his office at the time. His press person did release a statement saying that Elorza plans on working to address the issues.
Protests at City Hall will continue throughout the week.
© WLNE-TV 2015