Students return to school in Providence; officials hopeful for a fresh start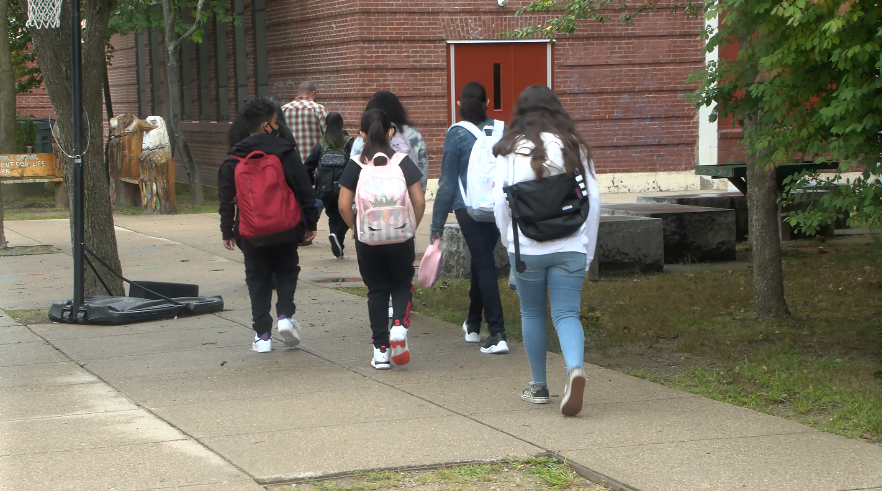 PROVIDENCE, R.I. (WLNE) – After a year of turnover and turmoil, the Providence Public School District is fully back in person.
Thursday morning, students headed back to the classroom for what school leaders hope is a year of transformation.
"I just pray for better. Good health and good wealth," Timia Tavares said. "These kids should be able to get a good education and someone that could lead them in the right position."
Tavares is a mom to a 6th grader at Esek Hopkins Middle School. She says there are a lot of nerves about heading back especially after such a tough year.
"Distance learning was tough," Tavares said. "I'm a working mom, full-time, so it was really hard. But this year I'm so glad they're all back in school and can be human again."
Commissioner Angélica Infante-Green was joined by Governor Dan McKee and Acting Superintendent Dr. Javier Montañez to greet students as they returned back to the classroom.
However, returning back comes with challenges including staffing shortages, students falling behind, and COVID outbreaks in the district.
"We're going to try now to make up for anything that was missed and continue to move ahead," Commissioner Infante-Green said.
According to RIDE, there are 73 classroom vacancies across the district. All of those vacancies have coverage aside from 18. RIDE says schools will work with staff to fill in at those 18 classrooms until they find permanent replacements.
Governor Dan McKee also signed an executive order where retired teachers can come back for a full year of teaching without impacting their pension.
"We're making sure to hire for those positions," Superintendent Montañez said. "We want high quality teachers and high quality educators in our building. Even if we have to go through the year, we'll work on filling those positions."
The Commissioner also acknowledged that students likely fell behind. Last year, the state used stimulus money to take interim assessments to evaluate where students struggled. Districts across the state will now compare those scores with tests this year to see what areas need improvement.
Those results are expected to come out in October. PPSD will also release a brand new app then that parents can view to get individualized information on their child's test score.
"I heard from kids who were AP students who felt like it was much harder when they were online," Commissioner Infante-Green said. "Making sure we assess the gap well and that we provide the right supports. We want to meet every individual student where they are."
As for tackling COVID-19 cases, officials say they're much better prepared heading into this year. There are several precautions in place as the Delta variant poses a new risk to children.
Students are required to wear masks and classrooms must have proper ventilation.
This year, students can use the cafeteria to eat lunch, which is different from last year where they had to eat at their desks. Field trips can also resume as long as students stay in ther stable pods.
If cases pop up, students will need to quarantine for 7 days. They can return back on day 8 with a negative PCR test.