Students uncover hidden artwork at Salve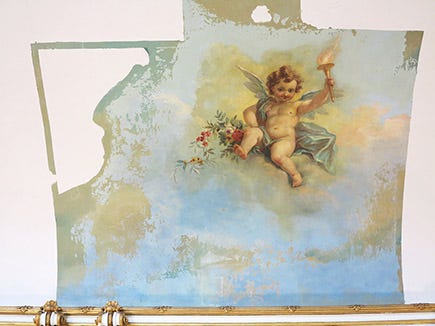 Nicole Gerber
@nicolegerber
NEWPORT – There's been a historic discovery at Salve Regina
in Newport.
Students visiting from another university were called in for a lesson on
artistic restoration… only to find a work of art themselves.
It just so happened that administrators at Salve Regina were interested in
removing some white latex paint from the ceiling in the ballroom of the Ochre Court building. And a class of graduate students from Clemson, studying
preservation, were looking for a hands–on project.
The rest… is history.
The ballroom at Ochre Court is already adorned with
guilded moldings and a Venetian work of art on its ceiling. But beneath two
layers of white latex paint… the conservation project revealed a hidden gem.
"You're expecting something interesting, a good student
project, but you're not expecting something really kind of earth shaking," said Robert Russell, Director of Historic Preservation at Salve.
The visiting conservation graduate students from Clemson were given the ballroom ceiling to work on because Salve was already
aware of a layer of sky–blue paint that was hidden underneath.
But when the students found more… an original work of art,
painted on canvas… it was a shock to everyone.
"We've exposed one, I guess you could call him a Cherub…the
technical art history term would be "puto" which is art historical
talk for fat naked baby with wings," said Russell.
Now… Salve is digging into its past. Professors have found
old photos that show a glimpse of what else is hiding beneath the white paint.
"It looks very French… it was probably commissioned for the
house… commissioned it would be 1895, around then," said Russell.
The administration here at Salve Regina is now looking into
how they'll uncover the rest of this mysterious piece of art.
"We work with others to assess who can do the work… and
then we look closely to what will it take, how much will it cost, and who can
work with us," said Michael Semenza, VP of University Relations and Advancement at Salve.
There's no telling how much the project will cost or how
long it will take, but in the past Salve has spent millions on restoration
projects that have taken anywhere from 6 months, to over a year to complete.
And it's unclear who painted over it or why.
(c) WLNE-TV 2014