Study: 1 out 5 local middle school students are sexting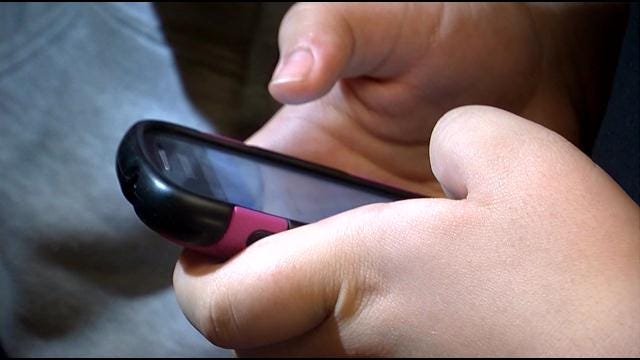 By: Melissa Randall
Tatiana Lopez, 13, and her friend Janae Smith, 12, open up about sexting. With their parents permission we had an honest conversation about what's happening in the hallways of their Providence middle school, yes, middle school.
"It's not what we would hear on TV or what ever– it's real. That's actually happening to people our age," said Lopez.
The alarming trend of sending a sexually implicit message or image of oneself to another person is now trickling down from teens to tweens. Lopez and Smith have never sent or received a sext message themselves, but say some of their friends have.
"People always think we are too young for everything," said Lopez.
"It was shocking– that someone our age would send a picture that inappropriate," said Smith.
Dr. Christopher Houck, a clinical psychologist at Rhode Island Hospital, has been studying the behaviors of *at risk 7th graders in Rhode Island. The data shows that one out of five students who participated have sexted.
"The relationship was that those who had sexted were five times more likely to report having engaged in some kind of sexual activity," said Dr. Houck.
But it doesn't end there. With the click of a button those private photos can be shared. Tatiana and Janae witnessed the reputation of a young friend be ruined by sexting.
"They told her she wasn't worth living any more– she was disgusting for sending the pictures," said Smith.
They say the girl talked about suicide but with time was able to overcome it.
Sexting is illegal in Rhode Island for anyone under the age of 18. Those found guilty face penalties ranging from counseling to having to register as a sex offender.
"If you receive a sex message and you forward it on to someone else whether you are an adult or a minor you could be charged under child pornography laws," said Peter Kilmartin, Rhode Island's Attorney General.
Rhode Island has seen several sexting cases involving teens go through the courts. There were two in 2012 and five in 2013.
In Bristol County Mass. nearly forty high school and middle school students have been investigated for sexting since 2010.
So what is the answer? How do parents protect their kids in a world of smart phones and instant communication? For the Lopez family of Pawtucket it all starts at the kitchen table.
"I hope that the gateway is there for me to actually have that conversation– because we are talking all the time," said Tatia Lopez. "And so far, thank god, it's working!"
The younger Lopez and Smith say there is pressure from their peers to sext, but the girls have decided sending a picture is not worth the risk.
"I'd be like scared for my life," said Lopez. "It's really serious."
Experts say it is important for parents to start discussing the topic with their children and to let them know the importance of family values.
*The findings of the sexting study were based on youth with behavioral and/or emotional problems. They may not apply to all middle school kids.
© WLNE-TV 2014
Follow me on Twitter @MelissaARandall
Resources—
Here is a link to the study published in the Official Journal of the American Academy of Pediatrics: http://pediatrics.aappublications.org/content/early/2014/01/01/peds.2013-1157.abstract
Houck's principal affiliation is the Bradley Hasbro Children's Research Center, a division of the Lifespan health system in Rhode Island. He also has academic appointments at The Warren Alpert Medical School of Brown University, Department of Psychiatry and Human behavior.
For more information on Rhode Island's laws and statues pertaining to sexting please visit the Attorney General's website: http://www.ri.gov/press/view/14279