Summer Activity Forecasts on ABC6 News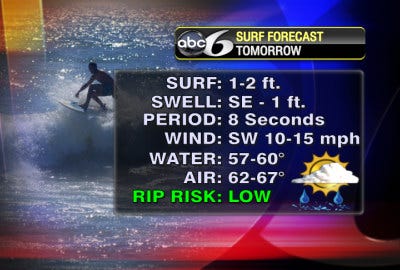 Memorial Day Weekend is often referred to as the "unofficial start of summer". At ABC6, it signifies the start of our Sun Smarts safe sun campaign. We will deliver a safe sun forecast during each ABC6 newscast through Labor Day weekend.
In addition to the Sun Smarts forecast, you can also look for a variety of other niche forecasts including:
Beach Forecast
This forecast for area beaches will include the high and low tide, water and air temperature, wind, and safe sun time.
Surf Forecast
This forecast will be those looking to ride some waves. We'll include wave heights, period, wind, and swell information.

Surfers have been asking for a forecast for years – ABC6 delivers
Bay Forecast
This forecast is given year-round, but is pertinent to many more people during the summer. High and low tides are given for Newport.
Event Forecasts
We will often highlight outdoor events (fairs, sports, etc.) by giving a forecast specific to the area and time of the event.
Not all of these forecasts will appear in every newscast, but we will try to incorporate as many of them as possible – especially near the weekend.
-Fred