Summer fun: South Kingstown lavender farm beginning seasonal cut-your-own lavender events this weekend
The farm will host several cut-your-own lavender events and other fun activities throughout the summer, on specific dates.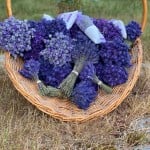 By: Tim Studebaker
Facebook: @TStudebakerABC6
Twitter: @TStudebakerABC6
Email: tstudebaker@abc6.com
SOUTH KINGSTOWN, R.I. (WLNE) – If you're looking for a fun summer escape, and you want to spruce up your home with some fresh flowers, South Kingstown is the place to be this weekend.  Lavender Waves Farm will be holding their first cut-your-own lavender event of the season on Saturday.
Henry Cabrera bought the farm in 2016 and has been hard at work making improvements and planting lavender.  He says, "My idea, once I came up with the lavender was, 'How am I going to sell it?'  It turns out that I figured letting folks come and enjoy the farm and having them experience a real life working farm would be the best way."
The farm has 4,000 lavender plants in 10 different varieties that bloom at different times, so there should be plenty of flowers to cut each time they're open.  Cabrera held his first cut-your-own lavender events last year.
Cabrera says, "It was wildly popular, to the point where we actually sold out of tickets ahead of time."
This year, visitors can cut lavender on select Saturdays through early August.  Tickets are limited, and they're sold for specific time slots.  If you don't want to cut your own, but you still want to see the flowers, animals, and do a little shopping, they're also hosting general admission days on select dates through late August. Those looking for more than just a day trip can even rent out their farm suite and stay the night.
Cabrera says, "Agrotourism is very important for lavender.  So, the farm suite is actually on the second floor and has a direct view of the lavender field from up there."
To learn more or buy tickets, visit their website: https://www.lavenderwavesfarm.com/
© WLNE-TV / ABC6 2021