Summer jobs program helps RI teens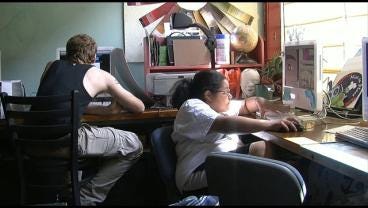 Rhode Island's unemployment rate is the second highest in the country at 11.2 percent. The rate for teenagers is much worse, so lawmakers are trying to change that with a two million dollar summer jobs program.
Chris Smith wants to be a photographer or journalist. It's a dream the 18 year old from the south side of Providence never thought would become reality.
"I stay here. I feel more safe," said Chris, "I started getting in trouble out there and I wanted to come here and do something productive."
Chris has a summer job at "AS220 Youth" doing photography thanks to the two million dollars lawmakers are putting toward a summer employment program. Scott Lapham is his teacher.
"It gives them a sense of mission," said Lapham, "It gives them a sense of pride. It gives them a sense of community, and it also gives them skills they can take to other parts of their lives."
13-hundred teens, like Chris, will benefit from the program, working at about 20 organizations across the state. At the same time, they'll get paid minimum wage.
Governor Chafee, Providence Mayor Taveras, and Cranston Mayor Fung are all supporting the program. They said their first jobs helped shape who they are today.
"Mine was on the wrong end of a wheel barrow, creating basements and driveways," said Governor Chafee.
"I was an official score-keeper for a softball league, and I was paid under the table," said Mayor Taveras.
"I was washing dishes in a restaurant," said Mayor Fung.
Lucky for the teens in this summer program, they have jobs a little bit better than those in healthcare, the arts, and education. And as Chris showed his instructor the photos he's taken so far, he couldn't help but feel proud.
"It shows that anybody can do anything. It doesn't matter where you come from," said Chris.
For most teens the program starts next month. The two million dollars to fund it are coming from both the state and federal government.