Support continues to pour in as Bishop Feehan hockey player recovers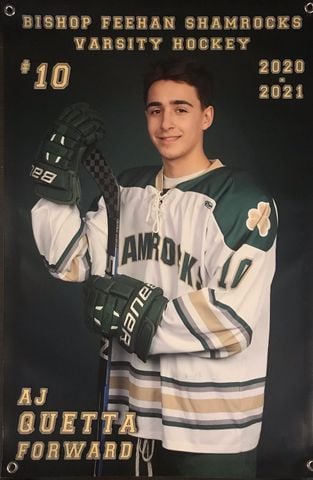 ATTLEBORO, M.A. (WLNE) — A Bishop Feehan High School hockey player who was paralyzed in a game last week continues to recover in the hospital.
Senior AJ Quetta suffered a spinal cord injury after crashing headfirst into the boards in a game again Pope Francis High School last week. 
The support continues to pour in for Quetta from around the region, including from former Norwood High School hockey player, Matt Brown, who suffered a similar spinal cord injury on the ice 11 years ago.
"I found myself this week counting the days that go by since AJ's accident," Brown said. 
"I think to myself, 'Okay, day 5. The morning of day 5, I was going through this,'" Brown explained. 
In the years since his own injury, Brown launched The Matt Brown Foundation, which supports spinal cord injury patients and their families. 
Brown says he's been in contact with the Quetta family, and has some advice for AJ's road to recovery.
"Don't worry about the future," Brown said. "Just focus on the days you have in front of you, focus on the hours you have in front of you."
"If you're having a good day, a good hour, keep it up and try to snowball it into the next hour," Brown said.
Bishop Feehan president, Tim Sullivan, says the school and its supporters are about to launch a formal foundation to help AJ and the Quetta family long-term. 
He says the family continues to be touched by the outpouring of love and support they've received so far. 
A GoFundMe page set up for AJ to help with medical expenses is nearing $800,000 raised as of Wednesday morning.
(c) WLNE-TV // ABC 6  2021