Support for Tyler Seddon now spreading to other kids in need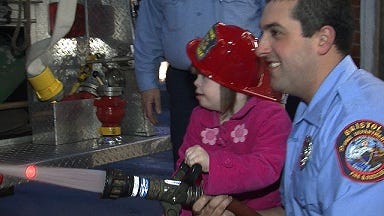 By: Samantha Lavien
Twitter: @samanthalavien
The immense support for 7-year-old Tyler Seddon's birthday that has been seen all across the world is actually helping other kids battling cancer and other illnesses to receive support as well.
8-year-old Paige Gauthier is among those to have recieved a little boost. Gauthier is in remission from leukemia and on Wednesday night she and her brother got a personalized tour of the Bristol Fire Department.
"It makes them feel so special. I know my kids feel so special today," said Jill Gauthier.
The Gauthier family was invited to the department after connecting online through the Tyler's Troops Facebook page.
"When I heard that it was somebody not only in town but in our neighborhood, I wanted to have them come down and do a little something," said The Assistant Chief of the Bristol Fire Department, David Coccio.
This is just one of the many ways that Tyler's story is helping other kids. He received thousands upon thousands of cards and gifts from across the globe as well as a giant birthday celebration after his mother requested cards for his 7th birthday. Now, parents with kids in similar circumstances say the support is creating some much needed awareness.
"It makes more people understand some of the things that some of these kids go through and it's a challenge," said Mark Gauthier.
Another benefit to come out of all the publicity is a separate Facebook page created by a police officer in Newton dedicated solely to first responders helping kids in need.
Wednesday night ABC 6 spoke via skype to a mother in Texas who has already received cards and more than 100 responses from first responders for her son Kayden who was born with multiple birth defects and is in renal failure.
"It's a really good thing that way if someone happens to have a similar story to us it's a good opportunity to be able to share," said Lauren Triplett.
There have been several bone marrow drives in honor of Tyler where hundreds of people have been tested. Those drives could help many others to find matches.
(C) WLNE-TV 2014