Surprise reunion between father and daughter in Air National Guard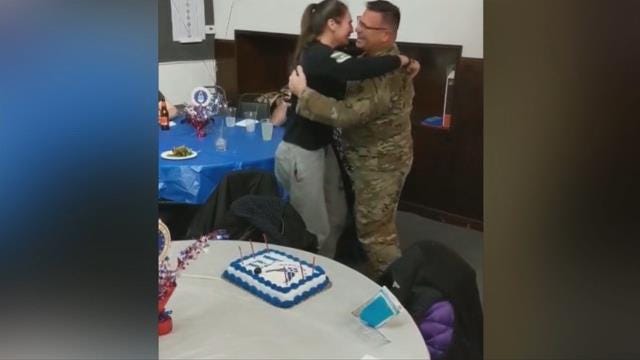 Email: BTaylor@abc6.com
Twitter: BTaylorABC6
NORTH KINGSTOWN, R.I. (WLNE): A father in the Rhode Island Air National Guard has not seen his daughter in 6 months since he was deployed.
Joseph Hart was deployed to the Middle East and was coming back to Rhode Island on January 24. His daughter, Lauren Hart, is a student at the University of Rhode Island. She is following in his footsteps and was scheduled to depart for basic training for the Air National Guard on January 21. She was disappointed she was missing her dad's return from his deployment by just three days.
Lori Hart Lafauci, Lauren's mother, and Joseph's ex-wife set up the surprise when she realized he would be coming home earlier than expected. Lafauci also works for the Rhode Island Air National Guard as the airmen and family program manager.
"So I see when they are set to come home through the processing that comes through my office," Lafauci said.
Lafauci saw her ex-husband was coming home a few days earlier and would be able to see their daughter before she left for her training.
Lafauci was throwing a going away party for her daughter, and knew it would be the perfect setting for the surprise.
"The surprise on her face, I will never forget," she said. "I'm going to get choked up. Her face, it was just everything. She needed her dad before she leaves."
Lafauci works with military families each day, so she knows how important it was for the two to reunite.
"She needed her dad before she leaves," Lafauci said. "She said now that dad's here, I feel so much better. I'm ready."
Lafauci and Hart also have two other children.
Lauren hopes to one day be a pilot for the Air National Guard, according to her mother.
©WLNE-TV/ABC6 2020