Surviving duck hunter in denial of friends death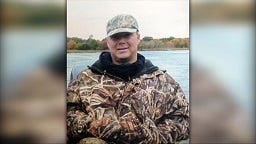 By: Alexandra Cowley
The only survivor of the duck hunting accident in Westport sits in Rhode Island hospital with frostbite on his knees and toes. His wife tells us he's in shock and can't believe his two friends didn't make it out alive.
Dr. Gregg Angell's wife says it's a miracle her husband survived Tuesday's biting cold temperatures. He remembers how he got to a tiny island where he was rescued by the coast guard, but the part he doesn't want to remember, or believe, is the most heartbreaking.
"He was in denial about it, he didn't believe me, he didn't believe me,"said Lorraine Angell.
Lorraine Angell says she waited until her husband, Dr. Gregg Angell was stable, to break the news of the death of his two close friends. Angell is in the hospital recovering from frostbite and shock after the small boat he and his two friends took out duck hunting Tuesday morning, capsized, launching them into the deathly cold waters.
"Absolutely a miracle, absolutely a miracle," said Lorraine about her husband's survival.
Lorraine says her husband knew the Westport River well enough to swim to a tiny island nearby. He crawled into the tall grass to try to keep warm.
"He knew he only had a little while longer he could hear them circling and I just can't imagine what that was like. He was just in a fetal position you know just watching the video of him coming up just breaks my heart," said Lorraine.
She says she owes the coast guard all the gratitude in the world for rescuing her husband.
What's most shocking for Dr. Angell, an OBGYN who practices in New Bedford, is that his two friends Steven James of Marshfield and Robert Becher of Connecticut died. Their bodies pulled from the river a half mile from the boat.
"it's just an awful thing to have gone through," said Lorraine.
These men were experienced duck hunters and had gone out in brutal conditions before. His wife says for some reason their boat started taking on water and capsized soon after.
(C) WLNE-TV 2013