Suspect Arrested in Fall River City Hall Evacuation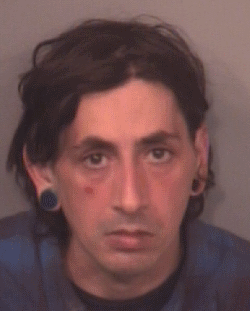 A suitcase left unattended by Fall River Government Center Tuesday prompted a bomb squad investigation and the building being cleared out. Cops have a suspect in custody. ABC6 has more on this story from Fall River Police…
Fall River, Massachusetts – On Tuesday May 11, 2010, at approximately 10:38 a.m, Fall River Police responded to 1 Government Center in regard to a suspicious piece of luggage left unattended, near a cement planter on the west side sidewalk of Government Center (Gromada Bridge-Over Interstate 195.)
Officer Dave Delvalle was flagged down by a Security Officer working at Government Center. The security detail is assigned to Government Center because it was designated as a FEMA Disaster Center during the recent flooding. The security officer was informed of the suitcase by a FEMA Employee. Officer Delvalle discussed this matter with his supervisor, Sergeant John M. Martins, and Federal Protective Service Agent Matthew Cabral. After further conversation, Sgt. John M. Martins, determined that the suitcase would be treated as a possible explosive device. It was also determined that City Hall would be evacuated at that time for precautionary purposes.
The Fall River Fire Department was called to the scene for precautionary measures, while Massachusetts State Police Bomb Squad Trooper Stephen Sicard examined the suitcase. Subsequently Trooper Sicard determined that the suitcase was non-explosive.
While this determination was taking place, Officer David Delvalle interviewed witnesses and was able to broadcast a suspect description. Two witnesses described the male as being a thin, white male, possibly between thirty and forty years old, wearing a black sweatshirt with the picture of a skeleton on it. Subsequently Officers Jonathan Ferreira and Raymond Correia were able to locate a suspect, later identified as Mr. John Cordeiro.
After a subsequent interview at the Police Station, Officer Delvalle determined that Mr. Cordeiro's intent was to cause a disturbance and the eventual evacuation with the unattended suitcase.
John Cordeiro, 33 years old, of 38 Bergeron St. North Dartmouth, Ma was charged with a single Felony count of Threats Causing Evacuation, or Public Inconvenience Chief Daniel Racine stated "The arrest of Mr. Cordeiro should stand as a warning that law enforcement, in particular in today's post 911 world, will not stand idly by. We take all threats seriously and respond accordingly. I thank and commend the public for immediately reporting a suspicious condition."
Anyone with information as to Mr. Cordeiro's whereabouts, with or without the suitcase, on Tuesday is urged to call the Fall River Police Department, Officer Dave Delvalle at (508)676-8511 or they can call the Fall River Police Department Tips Hotline at (508) 672-TIPS or 672-8477.