Suspect in mid-day shooting downtown faces a judge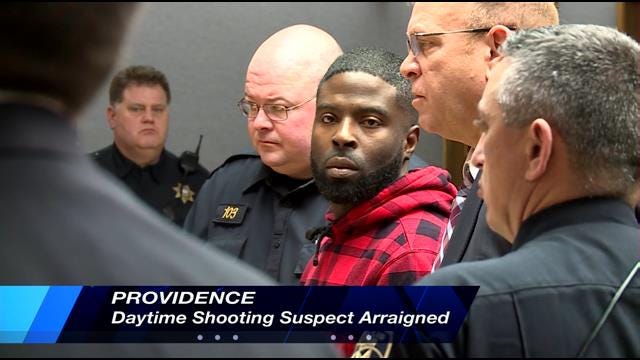 By Alana Cerrone
acerrone@abc6.com
@Alana_Cerrone
33-year-old Joseph Segrain, the alleged gunman in a mid-day shooting in downtown Providence, faced a judge Thursday morning.
"Firing at least 7 times into that vehicle, striking Mr. DePina at least 4 times"
His victim, 22 year old Matthew DePina, suffered serious injuries.
About an before the shooting went down, prosecutors say DePina was inside a Superior Court room at an arraignment for another man when Segrain showed up with at least 10 other people.
Police say the two were in different factions from Pawtucket.
Rhode Island Special Assistant Attorney General Joe McBurney described the fight inside the courtroom. "Mr. Segrain himself started an altercation with another individual in that courtroom. He was removed by courthouse personnel at about 11a.m."
Then Segrain allegedly got in his BMW and circled the building until DePina came outside, got picked up, and took off. Segrain followed him
"That BMW came flying down College Hill ran the red light at S. Main St., almost striking several vehicles, then ran a red light at Memorial almost striking several pedestrians and vehicles."
McBurney says that's when Segrain pulled up next to the car on the Crawford St. bridge and opened fire with a handgun. Segrain got away, but thanks to surveillance video, he was ID'ed.
On Wednesday he was picked up by Pawtucket Police on an unrelated investigation.
Between the brazen shooting in broad daylight and a laundry list of previous charges, including 4 felonies and drug charges for which he's currently on probation, a judge ordered him held on $200,000 bail with surety. Providence Police Major David Lapatin says he's glad to have this suspect off the streets.
"We know we needed to get this suspect off the street as soon as possible. We're very fortunate that no one else was injured."
Two suspects were tracked down in Warwick after the incident – they were taken in for questioning.
© WLNE-TV 2017