Suspect in Tiverton Stabbing Faces Judge Today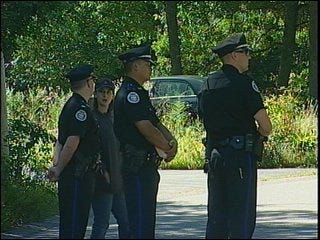 UPDATE: Joel Beaulieu was arraigned this morning in Newport District Court and ordered held at the ACI pending another appearance next week. He's undergoing a mental health evaluation in the meantime.
ABC6 Anchor Andrew Gobeil has the story from Newport.
***
The Tiverton Police Department is investigating after a late-night stabbing that left one person dead and another in critical condition – at the hands of their own son.
Police tell ABC6 that the stabbing happened just after midnight Saturday night at 31 Woodland Circle. Several neighbors made 911 calls about a loud "shouting disturbance" and a subsequent stabbing in the residence.
When police arrived, they found 62 year-old Conrad Beaulieu and 57 year-old Dianne Beaulieu suffering from stab wounds. Conrad Beaulieu was pronounced dead at St. Anne's Hospital. Dianne Beaulieu remains in critical condition.
Their son, 29 year-old Joel Beaulieu, is being treated for injuries sustained in the incident but will be returned to police custody and charged with the stabbings.
Conrad and Dianne have been educators in Tiverton for about 30 years each. Tiverton Schools Superintendent William Rearick tells ABC6 News that Conrad and Dianne Beaulieu had been teaching part-time at Tiverton Middle School, in the World Language Department.
Grief counselors will be available to students and staff when school opens Tuesday.