Suspect in video of violent altercation with police arraigned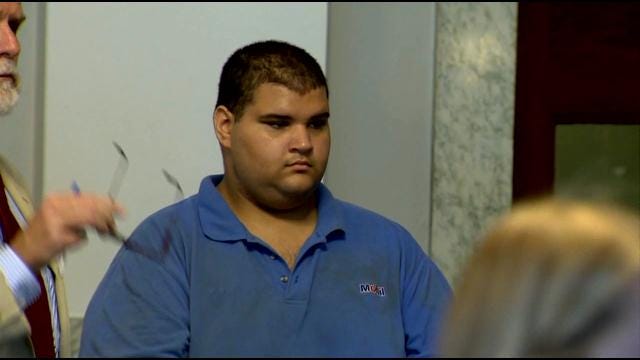 By: Melissa Toupin
A not guilty plea was entered on behalf of Joseph Perry, 22, in Attleboro District Court Tuesday afternoon. He is the man in the center of a cell phone video, posted to YouTube, which shows a violent altercation with police. The four officers were attempting to arrest Perry for allegedly trying to strangle his ex-girlfriend. The officers' use of force is now under scrutiny.
"I could hear the cracks on that guy's body from the sticks. It was horrible," one witness told ABC6 News.
The video shows the officers using pepper spray and batons to get the 370 pound man to the ground. In the process prosecutors say they struck him 4 to 5 times.
The police department is taking accusations of excessive force head on. They say Perry was ready to fight, and at one point laughed at them and said, "you better call for back up." Prosecutors defended the department in court saying the officers feared for their safety.
"He then lowered his center of gravity and clenched his teeth. He started to breathe heavy and he threw a punch at a lieutenant," said prosecutor Erin Aeillo.
"The only time he raised his hand was when they were hitting him with a stick, and he went to move a stick out of the way. He wasn't swinging at the police officer. He didn't' want to get hit anymore," a witness and friend of Perry's told ABC6 News.
The incident stemmed from a domestic call. Perry's ex-girlfriend dialed 911 after he allegedly threatened to kill her saying, "I'm bigger and stronger" than you and "no one can save you." The woman managed to get away only after kicking him in the groin.
Perry's attorney says his client suffers from bi-polar disorder, depression, and PTSD. Investigators say Perry told them he hadn't taken his medication in several days and that he "blacked out."
Charges against Perry include: Assault and Battery on a Police Officer, Assault with Intent to Kill, Intimidation of a Witness, Disorderly Conduct, Disturbing the Peace, and Resisting Arrest.
Bail was set at $1,000 cash. Perry will have to take his medication and abide by rules put in place by his mental health councilor. He is due back in court October 3rd for a probable cause hearing.
© WLNE-TV 2013