Suspects Arraigned in Fatal RI Bank Shooting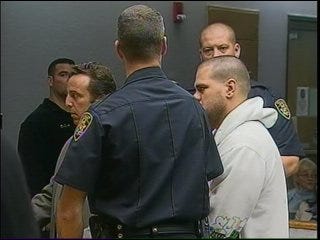 PROVIDENCE, R.I. (AP) – Two men accused in the shooting death of a gas station manager outside a Woonsocket bank have been ordered held without bail on murder and robbery charges.
Jason Pleau (PLEW) and Jose Anibal Santiago were arraigned Tuesday in Providence District Court in the Sept. 20 shooting of 49-year-old David Main as he went to the bank to make a deposit. They face another court appearance later Tuesday on alleged parole and probation violations.
They did not enter pleas.
Authorities say Pleau shot Main and then drove into a truck driven by Santiago. Santiago's lawyer tells The Providence Journal that his client had nothing to do with the shooting.
Pleau was arrested in New York and Santiago in Woonsocket within days of the shooting.
(Copyright 2010 by The Associated Press. All Rights Reserved.)