Swansea man arrested over two armed robberies in Fall River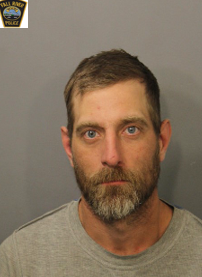 PROVIDENCE, R.I. (WLNE)- Fall River police arrested a Swansea man wanted in connection to two armed robberies in the city last week, according to a statement released today.
Police said 42-year-old Jeffrey John Vizthum was already on their radar when they received a call of a car colliding with a house in the city Saturday night.
Vizthum, the driver of the car, had been identified as a suspect in a robbery Tuesday at the Season's Corner Market on William S. Canning Boulevard.
Police said Vizthum was wearing a mask and brandishing a knife when he demanded money from the clerk, helping himself to cigarettes and an energy drink before fleeing the premises.
According to Fall River police, Vizthum struck again Saturday afternoon, this time helping himself to two energy drinks, along with cash from the register, of a Stop N Save market on Robeson Street.
After reviewing surveillance footage and social media accounts, Detective Luis Vertentes was able to identify Vizthum as a suspect in both robberies.
The Fall River police received a fateful hand in their investigation when they received a call of a car striking a house around 10 p.m. later that Saturday night, and found Vizthum as the driver.
Vizthum was taken into custody and charged with Armed Robbery While Masked, Armed Robbery, Leaving the Scene of Property Damage and a Marked Lanes Violation.
©WLNE-TV/ABC 6 2020