Swansea tornado relief drive nets tons of supplies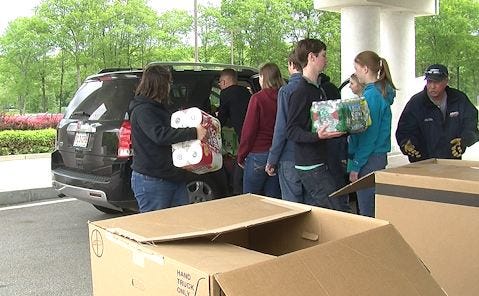 By Chris Sheppard
csheppard@abc6.com
Twitter: www.twitter.com/abc6
SWANSEA, Mass. – Car after car pulled up outside of the Cardi's Furniture store in Swansea Sunday as members of communities in Rhode Island and Massachusetts dropped off supplies and donations for the victims of the recent tornado in Moore, Oklahoma.
Store staff and volunteers from local schools and churches helped sort donated supplies and load palettes of bottled water, diapers, paper products, and other basic necessities into tractor trailers, which will be driven directly to the affected areas.
Cardi's staffer Ben DeCastro said that in total, donations from members of the community added up to fill four tractor trailers with goods.
The products donated will be given directly to the victims of the recent tornado which ravaged the town of Moore, Oklahoma and decimated the lives of hundreds of people in the surrounding area. The tornado killed 24 people.
Aprin Van Lines, the trucking company which will drive the supplies to Oklahoma, has a facility near the affected area. "Fortunately, their facility remains intact, so we can get these supplies directly to the people who need them the most," said Cardi's owner Peter Cardi. "It's been a steady stream of people coming here to give donations, it's been great."
The Red Cross was also on site to take cash donations. That money will be counted Thursday and given to tornado victims in need of financial assistance.