Syrian Americans protest possible US attack in Syria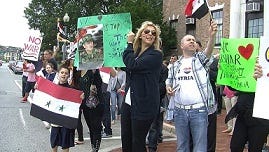 By: Alexandra Cowley
Syrians from Southern New England using all they have at a protest Thursday afternoon, begging the US not strike Syria. Close to a hundred rallied outside the state house saying the US is attacking the wrong side.
Syrian Americans came to Providence from Boston, Bellingham, and beyond, to rally against a possible US strike on their country. The protesters say the rebels are to blame for the chemical weapons, not the Syrian government.
"Stay away from Syria," yelled one protestor.
For the Syrian Americans gathered outside of the statehouse, their voice is the only weapon they have.
"We feel helpless yes, we can do nothing, this is the most we can do," said Chantal Raheb.
They came to the statehouse to protest a possible US strike on the Syrian military. At least a hundred Syrians were killed last week in a chemical weapons attack. An attack the US believes was acted out by the Syrian government. But the Syrian Americans say the US is targeting the wrong people.
"If the US hits Syria and the military bases, who's going to take over, just let me know, who's going to take over, the rebels, Al Qaeda, the terrorists, people who have created September 11th over here, its going to happen again,"said Chantal Raheb.
Chantal Raheb and her mother, Lina, scroll through pictures of their family in Aleppo, Syria. They say they can barely get a hold of them anymore, and when they do, the fear in their voice is unsettling.
"I want my brother and my sister to be safe in Aleppo," cried Lina.
"They're putting tape on their windows and trying to go in their basement to hide," explained Chantal.
The UN has been collecting evidence in Syria it believes will connect the attack to the Syrian Regime.
President Obama said the US is not looking to go to war in an interview with PBS Newshou; "We do have to make sure that when countries break international norms on weapons like chemical weapons that can threaten us, that they are held accountable."
Leaving the protestors pleading for peace.
"Please, Please Obama anybody, please god, please stop, the war in Aleppo," cried Lina.
Many of the people at Thursdays protest were strangers, they only found out about the rally through Facebook. Another protest against a possible attack in Syria is planned in Boston on Saturday.
(C) WLNE-TV 2013