Tamerlan Tsarnaev denies extremism in 2011 FBI Interview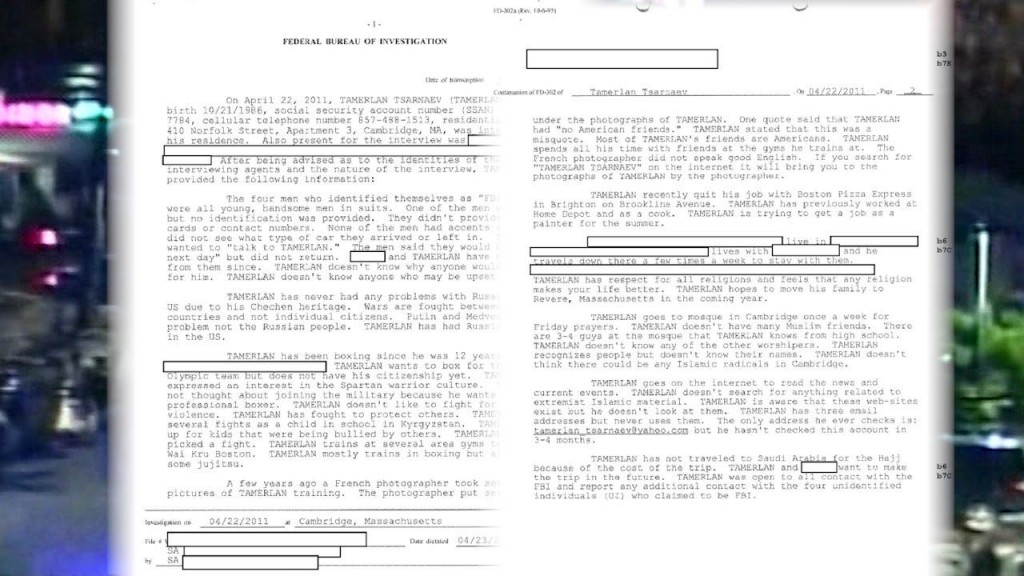 Almost two years to the day before the Tsarnaev brothers would set off twin bombs at the Boston Marathon finish line, Tamerlan Tsarnaev sat down with FBI agents denying any extremist ties.
On Monday the FBI released a two page summary of an April 2011 interview that took place after agents received information from Russia that Tsarnaev was a follower of radical Islam.
He told the agents he goes to a mosque in Cambridge once a week for Friday prayers and has respect for all religions.
"Tamerlan doesn't think there could be any Islamic radicals in Cambridge."
The now deceased 26 year old, who'd been a boxer since the age of 12, also told agents he doesn't like to fight for the sake of violence and had ambitions of boxing for the US Olympic team.
As we now know, Tsarnaev was killed in a massive shootout with police in Watertown days after the attack.
The just released summary goes on to talk about Tsarnaev's internet use.
"Tamerlan doesn't search for anything related to extremist Islamic material. Tamerlan is aware that these web-sites exist but he doesn't look at them."
Of course, during the trial of his brother, Dzhokhar Tsarnaev, investigators pointed out hoards of extremist material found on Tamerlan Tsarnaev's computer.
The report also reveals that Tsarnaev was "open to all contact with the FBI"
The report details an encounter the bomber had with 4 men he believed to be FBI agents shortly before this 2011 interview took place.
He wasn't able to identify them… but told agents he would report any additional contact with the individuals.
ABC 6 News did reach out to the FBI for comment and a spokesperson told us, "We are going to let the documents speak for themselves."
(C) WLNE 2017