Tatum Propels Celtics to Win over Hornets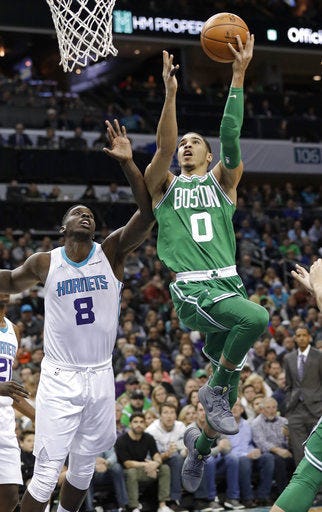 Kyrie Irving scored 21 points, Al Horford had 20 points and 11 rebounds and the Boston Celtics beat the Charlotte Hornets 102-91 on Wednesday night.
Jayson Tatum scored 10 of his 18 points in the pivotal fourth quarter, helping Boston break open a tight game. The Celtics had dropped three of four, including a 111-103 loss to visiting Washington on Christmas Day.
Horford gave the Hornets fits all night, hitting 8 of 11 shots, including 4 of 6 from beyond the 3-point arc. Kemba Walker scored 24 points and Dwight Howard had 12 points and 17 rebounds for the Hornets, who are in the midst of a freefall down the Eastern Conference standings. Charlotte has lost 13 of 17 ahead of a four-game West Coast trip beginning Friday night at Golden State.
The Hornets trailed by as many as 20 in the first half, but cut the lead to one entering the fourth quarter after holding the Celtics to 7-of-23 shooting in the third.
But Charlotte never led.
Terry Rozier, who had 15 points, knocked down a 3-point to start the fourth and Horford scored inside to give the Celtics some breathing room. Aron Baynes played a pivotal role on defense, helping hold Howard to 3-of-10 shooting from the field. Baynes consistently pushed Howard away from the low block, forcing him to take difficult shots and finished with nine rebounds.
Charlotte shot 36.8 percent from the field.
TIP INS
Celtics: Have beaten the Hornets in six straight meetings and 10 of the last 11 dating to February 2015. … Had 15 fast-break points to Charlotte's eight.
Hornets: Walker has scored at least 20 points in 19 games this season. … Outrebounded the Celtics 52-43.
UP NEXT
Celtics: Host Houston on Thursday night.
Hornets: Face the Warriors, Clippers, Kings and Lakers on their road trip.