Taunton police warn of heroin epidemic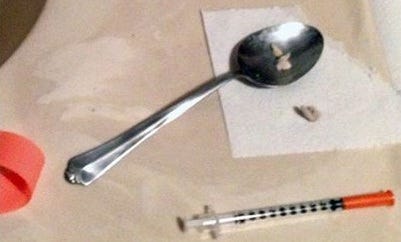 By: Samantha Lavien
Twitter: @samanthalavien
Police in Taunton are warning residents about a heroin epidemic following six overdoses in the city on Friday alone.
"Basically over the last month we've had more overdoes probably in that one month alone than we had all of last year," said Taunton Police Chief Edward Walsh.
Over the last week or so Walsh says the department has seen 10 heroin overdoses. Last week there was one death and he says over the past month there have been two or three others.
"We think it is a national trend we think there are issues coming out of New York City to the region in which the heroin coming in is higher purity or has been laced with fentanyl as a cutting agent," said Walsh.
Over the weekend the city police department posting a warning about the overdoses on Facebook, among those to respond was former drug addict Rich Barnes.
"When I saw that post from the Taunton Police I knew there was something that needs to be done," said Barnes.
Barnes struggled with drug addiction for 28 years. He now serves as a motivational speaker in schools and he says he knows first hand how difficult it can be to break the cycle of addiction.
"The old cliché is one day at a time.. but for some people it is not one day at a time, it is one hour at a time, some it is one minute at a time and some it is one second at a time… so it is a very very hard chain to break but it is breakable," said Barnes.
Barnes has been sober more than 7 years. He does have a website which offers help for those currently struggling with addiction and says he'd like to help as many people as possible. The site is: http://www.richfulthinking.com.
Next Monday Mayor Thomas Hoye, Chief Walsh, District Attorney Sam Sutter and the Taunton Police Department will host a Community discussion on combating the abuse of heroin. The meeting is scheduled for 6 p.m. at Friedman Middle School.
(C) WLNE-TV 2014