Taunton woman comes home to knife wielding burglar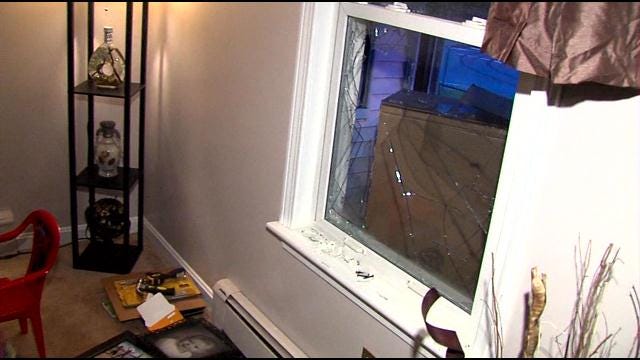 By: Alexandra Cowley
A Taunton woman comes home to find a knife-wielding burglar ransacking her home. 20-year-old Ashley Cochrane had just gotten home from a long day at the water park with her friend and her two little sisters. She ran inside her home on Floral Ave to grab what she needed for work, when she saw the burglar.
"I just froze and I looked into his eyes and he looked crazy, I stared at him and then I looked down, I seen a knife in his hand, turned around and started screaming I jumped down two flights of stairs," explained Cochrane.
Cochrane ran outside and her friend and sisters watched the burglar climb out the second story window and jump. He was gripping a pillowcase full of stolen jewelry and electronics.
Police launched a massive search, after Cochrane gave them a description of the thief. Her mother Kim was at work when she found out what was going on at her home.
"Full manhunt, full hunt, and people kept saying they had sightings all over the place so they were getting calls left and right, the last time they got a sighting they took the girls to identify him, so i'm glad now we can sleep tonight," said Kim Couto.
After two and a half hours of searching by land and by air, using police dogs to help sniff out the thief, 22-year-old Adrian Carrillo was taken into custody. He's been charged with breaking and entering and assault with a dangerous weapon. He'll be arraigned in District Court on Tuesday Morning.
His capture is a huge relief for the family, who won't feel the same in their house now that a complete stranger has torn it apart. However, police were able to retrieve most of the family's jewelry and electronics.